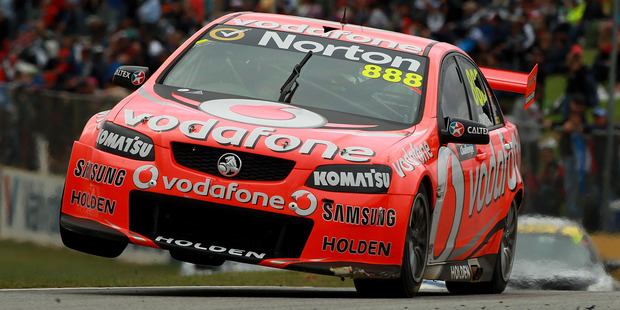 A safety car error that Holden star Craig Lowndes feared could hinder his 2012 championship hopes had no impact on last round's race result in Perth, according to a V8 Supercars review.
Lowndes's Team Vodafone were vocal critics after last weekend's Perth round finale following the safety car gaffe.
Officials directed the safety car to pick up Lowndes - not his teammate James Whincup as race leader last Sunday - ensuring the Holden veteran dropped from fourth to 14th once the mistake was discovered and he was asked to re-join the field.
Lowndes recovered to finish sixth but he feared the damage to his 2012 campaign had been done. He is fourth in the standings after four rounds - 316 points behind series leader Whincup.
Team Vodafone boss Roland Dane described the official's error "a disgraceful bit of race management" and "an absolute cock-up".
But a V8 Supercars review found no one was disadvantaged by the safety car period.
"V8 Supercars accepts that there were some errors during the deployment of the safety car, specifically the wording of which car to hold behind it which led to confusion amongst race teams and spectators," a statement said.
"V8 Supercars is comfortable, however, that this error in wording had no impact on the end result.
"In fact, the review reaffirmed the fact that during any safety car period, there remains a likelihood that some cars may gain advantage, and some may be disadvantaged."
But the review acknowledged race control told the safety car Lowndes was the leader and to hold him under the yellow flag.
The actual race leader Whincup was still in the pits with the majority of the field.
"This error in terminology by the race director meant that the teams and TV viewers were, within reason, of the view that race control believed 888 (Lowndes) was the leader," the statement said.
"It is acknowledged the wording 'hold 888, it is the next car approaching' would have been more appropriate.
"At this moment, with car 1 (Whincup still the leader) in the pit lane, there was no 'active' leader for the safety car to hold behind it.
"Under the current protocol, the race director had to hold all cars behind the safety car and wait until either car 1 (Whincup) rejoined the circuit as the leader or a new leader was established."
The statement said it took just 35 seconds for Ford's Dean Fiore to be established as the new race leader, prompting Lowndes to be waved on by the safety car and relegating him back in the pack.
But the review did identify improvements "to minimise the impact on the race result" during a safety car period.
They included the deployment of the safety car as soon as practical, the importance of effective communication between race control and the safety car and investigating technology to help identify the race leader under a yellow flag.
- AAP