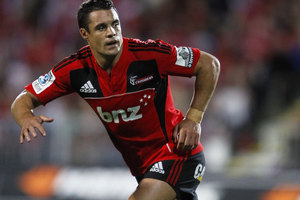 Dan Carter's troublesome groin has pushed him out of his favoured position with the Crusaders and now Steve Hansen has suggested that could continue with the All Blacks.
Carter has played seven games for the Crusaders since returning from a groin injury suffered in October's World Cup, but only two at No10, starting there against the Lions and Bulls in South Africa.
He has kicked for goal in only one match, the narrow loss to the Bulls in Pretoria, but missed three relatively easy kicks. The rest of his playing time has come at second five-eighths, with Tom Taylor in the No10 jersey and kicking for goal.
The 30-year-old is regarded as the world's best first five-eighths. He has said he is happy to play at second five for the Crusaders while he returns from injury but has staked a claim for his preferred position at the All Blacks.
New All Blacks coach Hansen, answering fans' questions on a video released by the New Zealand Rugby Union yesterday, agreed first five-eighths was Carter's best position, but didn't rule out a sideways shift.
"DC in my mind is the best first five in world rugby," Hansen said. "Right now, though, he is coming back from a groin injury which is limiting his kicking at the moment so, wisely, the Crusaders are playing him at 12.
"When he comes into our camp if he's able to kick goals then he'll certainly be starting at 10. But through necessity, from time to time he may also have to play 12, depending on what we have on the bench and how that groin is."
That suggests Carter will be selected for the All Blacks for the three-match series against Ireland in June whether he is kicking for goal or not.
The most likely scenario if he doesn't kick for goal is a move to second five-eighths and a call-up for first five-eighths Aaron Cruden, who is in sparkling form for the Chiefs with his boot and all-round play.
The shift would be bad news for in-form Chief Sonny Bill Williams, but he is likely to retain a spot on the reserves bench, probably ahead of Ma'a Nonu, with Conrad Smith at centre.
Although likely to be involved in Hansen's first All Blacks squad of the season, it's a stretch to suggest Piri Weepu could be a beneficiary of Carter's non-kicking, given he is so out of form for the Blues.
Weepu did, however, assume the kicking duties for the Blues for the first time this season in their loss to the Hurricanes in Wellington on Friday. Fullback Israel Dagg hasn't kicked for goal in a match since his quadriceps injury when playing for the Crusaders last year.
The 30-man All Blacks squad for the June tests, to be played in Auckland, Christchurch, and Hamilton, will be named on Sunday, June 3.
Hansen also suggested that Richard Kahui, a centre forming an effective partnership alongside Williams at the Chiefs, will be considered at wing or even fullback with the All Blacks.
"We thought he played particularly well [at wing] during the World Cup. On the recent trip to the UK with the Barbarians, which I was involved in, he also played fullback and played very well there so we'll also consider him for that position.
"And clearly he plays midfield for the Chiefs and is playing very well there so he's one of those utility players who gives us a little bit of manoeuvring ability because he covers three positions but early in the season his primary role, unless there's injuries in other areas, will be on the wing."
Hansen was also glowing in his praise for Hurricane Andre Taylor, a converted wing who is revelling in his new role of fullback this season.
"Andre Taylor is playing particularly well, and certainly for our franchise visits we've spoken to him when we went to the Hurricanes and let him know how we're feeling. The next few weeks will make that a little bit clearer, how he plays. He's certainly been brilliant with ball in hand and we've asked him to look at a couple of areas of his game and if he can improve on those then he gives himself a good chance."
- APNZ