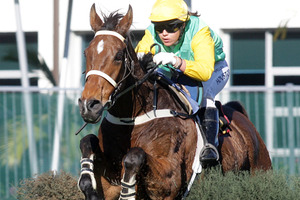 Yeah, okay, this sounds silly, but a rising 12-year-old might just be in the best form of his life.
Everyone's favourite Climbing High made it look ridiculously easy, winning at Te Rapa on Saturday, to the point rider Shelley Houston was warned about the obligation to ride a horse out fully at the finish of a race.
Given Climbing High was lumping clear topweight of 69kg, that was a pretty large backhanded compliment.
Climbing High has crashed a few times in his career - more through casual brainlessness than jumping ability - but he remains one of the sport's greatest exponents of clearing a steeplechase fence.
He is a beautiful horse to watch.
But regardless of how much we love him, it will always fall short of the admiration Houston has for the old bloke.
"When we pulled up yesterday, Shaun Phelan said: 'I hate that horse'.
"I said you wouldn't if you were on his back, trust me.
"I wish I had the words to describe how I feel about him. He's the best horse I've ridden - he's my lifetime mate," she said yesterday.
Houston defends not riding Climbing High out fully, winning by threequarters of a length from the John Wheeler-trained Volkswagin. "I could have drawn away if I'd wanted to, but the best thing I could have done for the other horses in the race for next time was give my bloke a hard run and make him frail for the next one [Waikato Steeplechase].
"I didn't ever feel I was in danger."
Climbing High has proved he is as good, and probably better, as any going around in the past two seasons, even if he is at his best on firmer, rather than heavier, tracks. That has more to do with wetter tracks making it more difficult to carry the big weights that have dogged him for two or three years.
It would be magnificently fitting if he capped off his career with victory in the big one - the Great Northern Steeplechase at Ellerslie at the end of the jumping season.
It's a big ask. First, Ellerslie, with its three times over the fearsome hill does not lend itself to those with big weights in more recent time, even though some magnificent topweight efforts have resulted.
What makes it especially difficult for Climbing High is that the most dour stayers are suited, whereas he is a speedy, free-going type.
Climbing High's record at Ellerslie is seconds in the 2009 and 2011 McGregor Grant Steeplechases and he lost his rider in the 2010 version. He then ran second in the Pakuranga Hunt Cup, was pulled up in last year's Great Northern and finally won there on October 16 last year under 69.5kg.
"If he gets a track like this in the Northern he is a definite chance."
Wouldn't that be something to see.
The northern jumping season started off with what could be described as a bang, when the first race on Saturday, a maiden hurdle, created more drama than a dozen races.
Portrush was in front and about to win when he appeared to put in an extra stride at the last fence and crashed. Previous leader Atomic Road was just as certain to finish second, but his hind legs caught Portrush as he rolled over and Patrick Ormsby was shot out of the saddle.
Portrush was sore in the near-side foreleg afterwards and will require a clearance before next racing.
Last season's headliner Matthew Gillies suffered concussion when his mount Ever So Sharp crashed in the back straight and was stood down for three weeks unless a neurologist clears him to ride before that time.
Ever So Sharp was found to have blood in a nostril consistent with head trauma and will require a veterinary clearance to race next.
Lohan was left in front after the incident and lasted easily enough to score for trainer Stephen Autridge, who said a Waikato Hurdle start would be premature for the novice hurdler.
Top-class act Borrack was after all that almost boring in disposing of his opposition in the open hurdle to make it five wins from six hurdling starts.