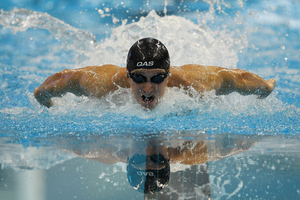 Australian Olympic Committee president John Coates has defended the controversial selection of swimmer Nick D'Arcy for the London Olympics amid accusations of a secret deal to bring him into the team.
D'Arcy missed the Beijing Olympics and Rome world championships after being convicted of assaulting former swimmer Simon Cowley in a Sydney bar in March 2008.
D'Arcy was ordered to pay Cowley $370,000 but declared himself bankrupt. That raised speculation that swimming's governing body might drop him from contention for London.
Cowley, whose face had to be surgically rebuilt after the assault, alleged in several Australian newspapers yesterday that Swimming Australia was involved in a secret deal to allow D'Arcy back into the team.
Cowley, 31, a breaststroke champion, says Swimming Australia's chief executive, Kevin Neil, told him of the deal in 2009.
According to Cowley, Neil said: "I'm telling you this but if you ever repeat it - ever try to tell anyone - I'll flat out deny it."
"There was no deal done with anyone about anything as far as I was concerned," Swimming Australia president David Urquhart said yesterday. "Any deals that were to be done have to come to the board of Swimming Australia, and that never happened."
Coates said the AOC selection committee had received legal advice that D'Arcy's bankruptcy did not constitute bringing him into disrepute under the terms of the team agreement.
"We are satisfied that he has learnt his lesson and he understands the standards required to be a member of our team," Coates said.
D'Arcy was selected for his Olympic debut following the Olympic trials at Adelaide in March. His time of 1 minute, 54.71 seconds in the 200m butterfly was just outside his own Australian record. The time was better than the 1m 55.43s that Michael Phelps posted as the world's best of 2012 at that time.
D'Arcy said then he was confident his bankruptcy would not be held against him. Cowley says his optimism was well-founded: "The reason he wasn't worried about it was he'd already done a deal with Swimming Australia, and Swimming Australia had no option but to endorse him."
Cowley says he got a phone call from Neil soon after Swimming Australia barred D'Arcy from the 2009 world championships, and that Neil told him D'Arcy had threatened to sue the organisation because he had previously been assured by the then head coach, Alan Thompson, that he would be permitted to swim. Cowley says Neil told him that in exchange for D'Arcy dropping the threat of legal action, Swimming Australia had guaranteed he would be welcome on future teams.
Thompson, now the general manager of football operations at the Canterbury-Bankstown Bulldogs, confirmed he told D'Arcy there would be no impediment to his swimming in Rome.
"I'd been given that information from senior officials at Swimming Australia," Thompson said.