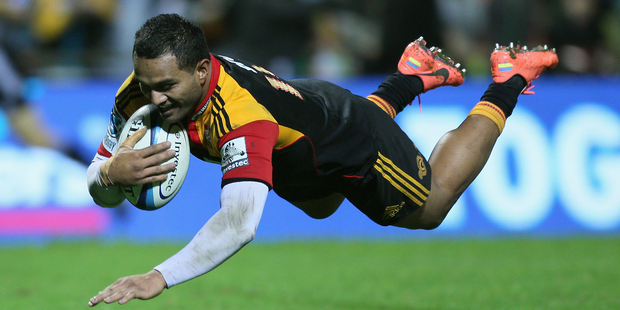 Chiefs 34 Lions 21
Job done, five points in the bag, a few first-choice tired legs rested and the mighty Chiefs' bandwagon rolls on. Yet there was only a limited sense of satisfaction at Pukekohe last night.
Only the Blues would see a result against the Lions as reason to celebrate. For everyone else, it's the performance that matters and the Chiefs didn't quite get the full noise they were after.
The accuracy and attention to basics were patchy and even factoring in the changes of personnel the Chiefs had made, there was a little too much clumsy, nothingness. There was never any danger of them being considered clinical; functional would be more like it - a vanilla performance that sufficed without killing the craving.
The Lions are a side that can be relied upon to make life easier than it needs to be and they duly provided opportunity for the Chiefs to score points without having to do much. That was handy as the Chiefs may have had desire and vision to play wide and width tempo, but they lacked the crisp execution.
Their momentum was helped by being able to pounce on the opposition's mistakes and that's what will have troubled them - they know they can't rely on living off the generosity of others. Long term that is not sustainable and the zip, flow and dynamism of previous rounds needs to be found.
Probably of more concern than the little handling and decision-making errors, was the softness of the tries they conceded. The Chiefs have built their season on the passion, organisation and brutality of their defence.
There was no urgency across the board in that regard and the Lions scored two rumbling tries that happened without seemingly doing much to gain them. Still, the evening was not without its positives. There were blasts - some sharp periods where they cut loose; sustained phases where the forwards won the ball, kept out of the way and let the backs get on with it.
Richard Kahui is in the midst of his best season since 2007. His crunching defence remains his signature offering but there is much more to his work with ball in hand now. It's become so customary to see him smashing men down in the past few seasons that it's easy to forget he came to prominence in 2006 as the highest try scorer in the provincial championship.
That attacking thrust is back. His running had a little too much sting for the Lions and he had the confidence to play with his head up and use those around him. He left the field midway through the second half that appeared to daze and confuse him and left him bleeding from the mouth. Yet he returned after a spell in the blood-bin to suggest he'll be good to go this week.
Kahui was ably supported by his second five running mate who is also in the midst of his best Super Rugby campaign.
Sonny Bill Williams is now without dispute a rugby player. He's not a league convert these days - the last vestiges of the 13-man code have been drummed out of him and he was as effective as Kahui when he took on the line and backed his quite outrageous strength. Williams set up a try for Craig Clarke when he crashed into the first contact, somehow emerged despite the throng around him, spun a few times and then managed another five metres on the strength of a scrambling leg drive.
Williams' performance couldn't have struck a starker contrast to that of Ma'a Nonu's the previous night. Williams was direct and lethal - full of confidence and good ideas. Nonu was stuttering and reluctant to carry and it is little wonder that the Chiefs man is set to slip into the All Black No 12 jersey for most of June.
Aaron Cruden has a strong claim to join his midfield partners in the test arena. Once again he was composed and unhurried in all that he did. He scored the opening try when he coasted onto the ball and just decided it would be best if he kept going. His organisation and vision were top drawer, too, but the two things that really stood out were the length of his kicking out of his hand and the accuracy of his goal-kicking.
He is now the man who cannot miss.
Chiefs 34 (A. Cruden, C. Clarke, L. Masaga, B. Leonard tries; A. Cruden 4 cons, 2 pens) Lions 21 (C. Grobbelaar 2, J. Strauss tries; E. Jantjies 3 cons).