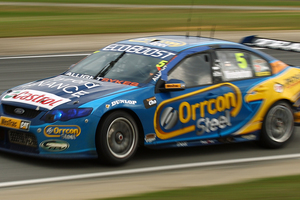 The door remains open for Ford's Mark Winterbottom to make a run at the 2012 V8 Supercars championship after claiming the Perth round's opening race today.
However, Winterbottom was simply hoping a door remained closed on his Falcon after a bizarre pre-race incident almost cost him dearly.
Winterbottom's success ensured Ford had claimed five of the first seven races of 2012.
But Holden's Jamie Whincup kept his title defence hopes alive by reclaiming the series lead from Winterbottom's unfortunate teammate Will Davison.
Whincup moved to 917 points with his second placing.
In contrast, Davison (866pts) was a shattered man after limping into 25th following a sensational first-lap bingle that damaged his suspension and took out pole sitter Garth Tander.
Initially it looked like it may not be Winterbottom's day.
Winterbottom looked on hopelessly as his frantic crew worked on replacing his left door that was damaged on the starting grid.
In a rare sight, Tander clipped the door as he made his way to the grid's front row.
"Unfortunately the door slipped out of one of our guy's hands and it swung open as Garth came past - there was a fair scramble going on," Winterbottom said.
Winterbottom lived up to his nickname "Frosty" and kept his cool to claim his second straight race win - more than three seconds ahead of Whincup.
He moved to third on the standings with 757 points.
WA-born Tander was a popular pole winner - but cheers turned to tears in the blink of an eye.
On the first lap, Tander tangled with Winterbottom before being turned around by Ford's David Reynolds and becoming a sitting duck.
Remarkably Davison was the only one to slam into Tander, averting what looked like certain disaster.
Tander's Holden caught fire while Davison limped into the pits and never recovered.
"Unfortunately I got caught out because of someone else's stupid mistake," a livid Davison said.
Winterbottom did not sound like he had much sympathy for Tander.
"I am not sure what Garth was doing there (tangling with him) - he cost himself a race," he said.
"He got turned around and rightly so with what he was doing down the straight - he tried to take the door off again and came off second best."
Whincup was hardly happy with regaining the championship lead after his gamble starting on soft tyres backfired.
He pitted for hard tyres on the 32nd of the 50-lap race but it was too little, too late.
"For me it is too early to be talking championships. We came here to win the race and we didn't do that," Whincup said.
"We had a slow pit stop. That probably cost us the race.
"Look any podium finish is good but (losing by) three seconds? I am starting to get over that."
Two 120km races will be held on Sunday.
-AAP