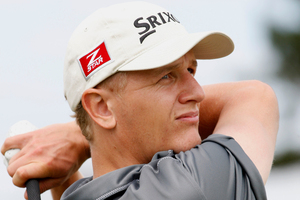 Auckland golfers Fraser Wilkin and Ryan Fox share the lead of the Muriwai Open heading into the final round after today's dramatic day three at the links west of Auckland.
Amateur Wilkin, who shot an eight under par 64 yesterday to lead by three overnight, carded a one under par 71 playing alongside professional Fox in fine and benign conditions.
The 24-year-old made a costly bogey on the 14th, but bounced back superbly with birdies on 15 and 16 to restore a two shot advantage at 12 under par.
The big-hitting Fox responded with a birdie at the 17th and Wilkin missed a five foot par chance on the 18th to drop back to a share of the lead at 11 under par.
With both men chasing their maiden victory on the Charles Tour, Wilkin was feeling comfortable in the final group and was pleased with his response when put under pressure on the back nine.
"I wasn't really nervous or anything today. If anything, I lacked a bit of killer instinct," Wilkin said.
"I didn't putt as well as yesterday. I didn't trust my reads and I was second guessing my reads a lot of the time.
"Tomorrow, I'll look to be a bit more concise with my decision making and hopefully that will pay off."
Fox, who has enjoyed a stellar rookie season as a professional, was happy with his position.
"I am in contention going into the final round so I certainly can't complain," said Fox. "I had to keep in touch with Fraser and that birdie on 17 was important. It is nice to be in a share of the lead heading into tomorrow."
The pair are good mates and their relationship on course is convivial as they look to add their name to the list of respected winners on the Charles Tour.
"We are only really competitive for the 30 seconds we hit the ball," Wilkin said. " That is the beauty of golf, there is no sledging or gamesmanship out there. It is like hanging out with your mates and having fun."
In the women's field, world No 1 amateur Lydia Ko shot a one under par 71 to lead by seven shots from fellow New Zealand representative Emily Perry.
"I played average again like I didn't hit it very close, which didn't help, but my putting was good to make a good score," Ko said. "I was scrambling well throughout the round. I had four birdie putts on the final four holes and I missed all of them so I was a bit gutted after that."
Perry, on the other hand, shot her best round of the tournament with a two under par 70.
"I played a lot better than the last two days," the 21-year-old said. "Nothing really got me into trouble where I was going to make big numbers. I really enjoyed playing with Lydia as well.
"I don't have much to lose so I'll give it my best tomorrow and see how we go. I have played here a lot and I have never seen it like this. There is not even a club of wind which is amazing for Muriwai. It is sunny and warm and really nice to play in."
It has been pleasing for Perry to bounce back after a poor showing at the Queen Sirikit Cup in Singapore.
"The Queen Sirikit Cup wasn't so much that I was playing badly, it was just a couple of holes where I made bad decisions. So I have minimised them out there and it is working."

- APNZ