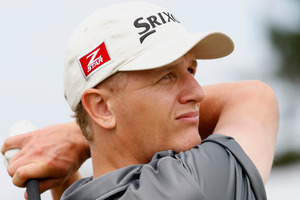 Auckland amateur Fraser Wilkin came agonisingly close to equalling the course record at the Muriwai Golf Club today but instead settled for a three shot lead at the Muriwai Open.
Wilkin was one horseshoe putt away from equalling the record set by Josh Munn last year, but his superb eight under par 64 was good enough to open a buffer over defending champion Munn and Auckland professional Ryan Fox at the halfway stage of the $40,000 event on the Charles Tour.
Wilkin, who comes to west Auckland on the back of a leading amateur finish at the Taranaki Energy Open, made six birdies and an eagle to set the two round lead at 10 under par.
The 24-year-old was delighted with his fantastic round in the fine and benign conditions.
"I'm absolutely thrilled to shoot a 64," he said. "I knew Josh Munn's course record was 63, and I had a putt on the eighth to get to nine under and it's taken a big horseshoe.
"I was disappointed to make par on the last but then pretty happy to see the par putt drop for a 64 as well."
Wilkin, who finished runner-up at the New Zealand stroke play, said he felt like he was in for a good round right from the start.
"I burnt the hole on the first couple of holes for birdie and I knew that the putter felt great in my hand straight away. I knew as long as I gave myself chances I'd be in for a good one today. "
The occasional New Zealand representative has gone low before this year, with a nine under 63 at Lochiel to set the course record, and has enjoyed a dramatic turnaround in form.
"My game has definitely come a long way in the past couple of months. At the start of the year it really wasn't looking too good but mentally I wasn't there and now I feel my game has turned around a fair bit."
Munn, who blitzed the course in round one again yesterday with a seven under 65, shot an even par 72 to remain on a seven under par total.
"I was a bit nervy on the front nine but I hung in there and I was pretty proud of that," the 21-year-old said. "I made double bogey on the first hole and hung in there making a few up and downs on the way around which kept my momentum.
"That is a stunning round from Fraser but I will be on the charge tomorrow."
In the women's field, world No 1 amateur Lydia Ko followed up her course record five under par 67 yesterday with an even par 72 to lead by eight shots from fellow New Zealand representative Emily Perry (74) and New Zealand Amateur runner up Wen Yung Keh (73).
"I think it was much easier out there today than it was in round one but I couldn't take advantage and somehow it got to me," Ko said.
"I had a wedge in my hands a few times and I made bogey. It wasn't that bad, my putting was good apart from two holes where I three-putted. I'll hopefully play better tomorrow."
The cut was made at 60 players and ties for the men, which was an 11 over par total of 155, while the women's field was cut to the best 12 players and ties, with a 20 over par total of 164.

- APNZ