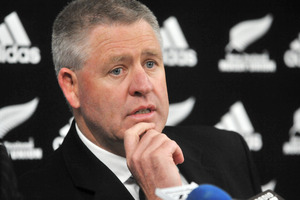 Get some sponsorship - when money talks, athletes listen. It's hard not to reach the conclusion that the rugby establishment is reversing into next month's North-South fixture with all the enthusiasm of a learner driver eyeing a tight parallel parking space.
It's a shame because done the right way, an annual North-South fixture played along 1st XV Island of Origin principles could double as a bona fide, high-stakes All Black trial.
Instead, this Players' Association-driven initiative to aid the Otago Rugby Union has been viewed in most quarters as a well-intended inconvenience.
"I've just sat in a room with all the franchises and the NZRU and there were no issues, it's all good," players' association boss Rob Nichol said yesterday.
That's an understandably rose-tinted outlook, however, of the June 10 fixture.
There's been push-back from the five Super 15 franchises, reluctant to release players in the middle of a campaign.
"The issue we've had is that in the absence of any information, people are wondering what is going on," Nichol said.
You can understand why there's been less than universal acceptance, given this match has been arranged at relatively short notice, but if an Island of Origin was built into the programme in future years, proper plans could be made.
New Zealand Rugby Union CEO Steve Tew could probably rattle off several unbridgeable reasons why an annual can't be squeezed into a jam-packed calendar, but sometimes the reasons for making something happen are more important.
There is a lot of rugby on the calendar. Too much, but not all of it is great.
What would you rather watch - an Island of Origin or the Highlanders versus the Lions? Exactly.
Get some sponsorship - it shouldn't be hard - and offer big prize money. When money talks, athletes listen.
The Super rugby season has already been twisted, expanded, compromised and molested in its relatively short history. It now comes complete with a sabbatical in June, so it shouldn't be impossible to massage another week off in May.
The NRL clubs are no great fans of the State of Origin, but they've learned to live with it.
It could be a blockbuster, but will most likely be scrunched up into a ball and tossed in the too-hard basket. Rather than being regarded as a starting block, you suspect anything but red-hot interest in next month's Dunedin fixture will be used as evidence why it can't be done.