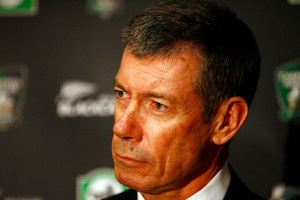 John Buchanan predicted, when he was appointed New Zealand Cricket's director of cricket in April last year, that he and John Wright would rub along well together.
That's a good one.
NZC cannot escape being the guys wearing the black hats in the wake of Wright's imminent departure as national coach, after the tour to the West Indies in July-August. Wright decided in the end he couldn't be bothered with the aggro, trying to do his job his way and finding, to his mind, interference at every turn.
When he was finally given the job in December 2010, a couple of years later than he should have been, a general hurrah emanated from cricketland.
Fans liked the values he espoused - work hard, avoid short cuts, sweat for the cause - and certainly they are as relevant now as they were in his playing career. The man practically bled black and white. Team and coach seemed a solid match.
Since taking charge, there have been bad days - notably a predilection for dreadful batting slides - but also encouraging signs. Against South Africa, there were pockets in which New Zealand contested on a level footing, if not better, with the world's No2 team. But they were unable to sustain it for long enough.
Players such as Doug Bracewell, Dean Brownlie and Trent Boult were introduced on his watch. The Hobart win in December stands out as the high note in Wright's reign, a seven-run win on a freakishly green pitch, but which should have been won by a more decisive margin.
Afterwards Wright was chatty, wanted the players to enjoy the moment. After all, the last time New Zealand had beaten Australia was Wright's 82nd and last test as a resolute opener, 18 years earlier.
There was the odd off-the-record observation. He was clearly chuffed, and had half an eye on what lay ahead.
But even then there were signs that all was not well in his relationship with Buchanan, the person to whom he had to answer. There was a quip about not particularly liking pie - a reference to the implementation of a barmy pie chart method of selecting players.
Wright wanted to do the job on his terms, in his distinctive way; paper trails aren't his go. Buchanan wants a structure. Old School clattering head on against Modern Way.
Buchanan has been gagged by NZC since news of Wright's decision not to accept a fresh offer this week, which means he has to sit quietly and take the hits. NZC clearly recognises there is no positive mileage to be garnered. Better by far to keep schtum and ride out the flak.
Wright had his faults. He is hopeless at returning calls, and prone to muddling through large press gatherings. On neither of those counts is he alone in that among sports officials, and they shouldn't count as black marks.
He can be stubborn. Could he not have ploughed on in the job he'd yearned for? Clearly not, and he spoke this week of wanting to be true to himself, his values and beliefs.
His face, his approach, didn't fit Buchanan's scheme. Both knew it.
Thirteen months ago Buchanan talked of "trying to get everybody on the same page ... that's going to be part of the challenge".
In the end the ideas man with three years to run on his contract prevailed over the local hero coming to the end of his.