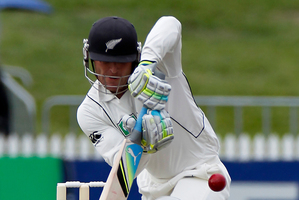 Omitting pugnacious wicketkeeper-batsman Brendon McCullum from both short-form cricket series in the West Indies could backfire, national coach John Wright admitted yesterday.
McCullum has been rested for the T20 and ODI series as part of a plan to give leading players short breaks in the coming months.
New Zealand's top-order batting in the seven limited-overs games will be in the hands of Martin Guptill, Rob Nicol, Daniel Flynn, Kane Williamson and possibly BJ Watling.
"[Resting McCullum] was decided some time ago with myself, [fellow selector] Kim Littlejohn and [director of cricket] John Buchanan, from the point of view that there was an awful lot of cricket coming up," Wright said.
"That also gives us an opportunity to look at someone else."
McCullum, said Wright, had accepted the decision to sit those games out, although you'd suspect through gritted teeth. McCullum is a doer, not a watcher.
"In this case he accepted that perhaps a spell would not be a bad thing, given the fact also of his IPL commitments. People will comment on that, but it's reality," Wright added.
Watling and possibly young Canterbury lefthander Tom Latham will share the wicketkeeping role in the T20 and ODI legs of the trip, which starts late next month.
The test squad is fairly predictable, with Otago left-armer Neil Wagner getting his opportunity now that he is eligible to represent New Zealand. But Wright, who is preparing for his last tour in the coaching job, sounded a word of caution.
"You can't have enough depth in that area and he's going to add to that," Wright said.
"It will be a step up [from domestic cricket] and he will have to understand the disciplines that go with bowling in test cricket."
Legspinner Tarun Nethula is a pleasing addition to the test squad, having done encouragingly against South Africa when given ODI opportunities last summer.
Having two left-armers in the five-strong seam quartet, Wagner and Trent Boult, might raise eyebrows. It shouldn't.
If they are among the five best they should go. In any case, barring injuries, it is highly unlikely both will play in the Antigua and Jamaica tests.
Boult was omitted for the second and third tests against South Africa in March, but he has caught the eye and should be encouraged.
Tim Southee is back in the short-form squads, but needs to prove himself ready for a test return.
The naming yesterday was good news for Auckland spinner Ronnie Hira, who made a tidy start against Zimbabwe and South Africa. The world T20 championship is coming up in Sri Lanka in September. Spin will be crucial. Hira has his chance.
Little Central Districts wicketkeeper Kruger van Wyk deserved to keep his place in the test squad, while Watling offers specialist batting backup, as well as keeping van Wyk on his toes.
Veteran allrounder Jacob Oram is heading to the Caribbean, but James Franklin is not, a stint of T20 for Essex being lined up to keep him in trim for the world championship.
Oram's selection means three survivors of the last trip to the West Indies, in 2002, remain, Dan Vettori and Chris Martin the others.
The tour starts with a brace of T20s in Florida on June 30 and July 1 before five ODIs, then ends with the second test, starting on August 2.