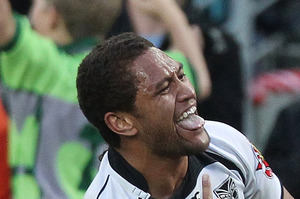 1. Game of the week
Warriors v Broncos
Saturday 7.30pm, Mt Smart
The last time these two teams faced off the Warriors swaggered into Brisbane, confident they were about to pull off a big finals victory.
That air of confidence lasted about 10 seconds, with the Warriors coughing up 15 errors in a calamitous display and being belted 40-10. While they recovered admirably to go on and make the grand final, it was a painful lesson in humility. Just 11 of the Warriors' 17 from that match will run out tomorrow night, while 13 Broncos return.
The key Broncos absentees are Darren Lockyer and Jharal Yow Yeh. The Warriors are bolstered by the return of Shaun Johnson, Konrad Hurrell and prop Jacob Lillyman - for the first time this season - while Ben Te'o returns from a two-match suspension for the Broncs.
2. Don't call it a comeback...
A week after storming back into the NRL with a, er - 21-minute, six-carry, eight-tackle - display in a 34-14 victory over Penrith, Willie Mason is preparing to face his former mates at the Roosters.
Mason, who famously reacted to his axing by the Roosters in 2010 by describing the club's board as "fat businessmen", insists there is no bad blood despite his departure coinciding with coach Brian Smith's arrival.
"The Roosters are all good guys, so it's nothing against Brian Smith - nothing like that - it's just another game for me," Mason said.
Roosters fullback Anthony "The Count" Minichiello went to bat for his former teammate, suggesting he was simply misunderstood. "Everyone knows he likes a night out and all that sort of stuff, but he doesn't drag young blokes out at all," Minichiello said.
Mason might not be producing much but he isn't breaking Nathan Tinkler's piggy bank, with Aussie press reporting his contract is worth just A$40,000 ($51,000) plus match fees.
3. Merry go round
The Rabbitohs have moved swiftly to plug the sizeable gap left by Dave Taylor's pending departure, capturing Ben Te'o from the Broncos.
Taylor, meanwhile, has continued to insist his big money move to the financially-stricken Titans is not in jeopardy. Storm forward Sika Manu is another Kiwi star still on the market. Australian media are reporting that up to six Sydney clubs are chasing the damaging but injury-prone Wellingtonian.
Manu has admitted the chances are he will leave Melbourne.
"I'd love to stay here at Melbourne, but they're like every club, they've got salary-cap issues." Umm ... yes they have mate, for once. The Warriors inked wing Bill Tupou to a three-year extension this week.
4. Wanted man
The Panthers appear to have won the race for highly sought-after teenager Brent Naden. A promising junior, Naden is most famous for being the cousin of Malcolm Naden - an accused murderer who was Australia's most-wanted man and who spent six years on the run before his capture in March.
Brent Naden has never met his cousin but he is seldom allowed to forget the family connection. "With my Western Rams under-18s team, all the coaches and all the boys call me Malcolm," he told the Sydney Morning Herald. "They don't call me Brent, they just say 'Mal'. I just take it on the chin. Even Mum says, 'You'd be the second-most wanted Naden now'."
5. They said it
"It was like the fear left all of us, and when the fear left all of us, that's what we can do. That's what we need to play."
- Eels superstar Jarryd Hayne explains the team's form reversal in the remarkable 30-31 loss to the Tigers.
"Whether or not we play like that, it's up to the coach."
- Hayne again. Oh dear. Expect the words "losing" and "changing shed" to appear somewhere near Kearney's name in the near future then.
6. Odds on
I'm no Mick Guerin but given the Warriors v Broncos match features a team with the second-most potent attack versus a team that has kept an opponent to under 20 points just once in eight matches this season, the match seems a monty for a couple of 'to score a try' wagers on the Broncos. For those feeling patriotic, Kiwis stars Josh Hoffman ($2.25), Gerard Beale ($2.00) and Alex Glenn ($3.75) might be worth a bet. Having failed to score in his last four outings, Warriors wing Manu Vatuvei is two matches away from equalling the longest drought of his career - and that was in the first six matches of his career. The big man has been in fine form and is certainly due. He's paying just $1.80 to get on the scoresheet tomorrow night, and $9 to score the first try of the match. With the Warriors fragile on the edges, Jack Reed ($2.30) and Justin Hodges ($2.15) might offer some value.