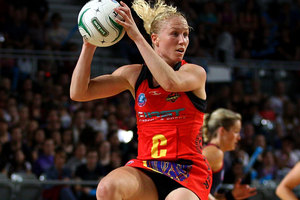 Waikato-Bay of Plenty Magic face a potentially tricky assignment against West Coast Fever in Tauranga on Sunday as they seek an elusive double in this year's ANZ Championship.
The Magic are gunning for back-to-back wins for the first time this season after finally opening their 2012 account with a nine-goal victory over the Canterbury Tactix last weekend.
Hardly a case to pop the champagne corks, as Magic inched their way from 10th on the table to ninth, but now back on the wagon they are determined not to fall off.
"We got the two points on the board which just means it's another starting point for us ... there's still areas we need to work on to improve those moments of perfection," coach Noeline Taurua said.
The much-heralded arrival of former Australian coach Norma Plummer and veteran shooter Catherine Cox to Fever's ranks this year has given the team from Perth a more solid look, but they have yet to deliver on their potential. So far, they have shown a great ability to create opportunities but are just as proficient at turning the ball over.
But Plummer would fancy her chances against Magic, who have also struggled to find their groove.
"Yes, there's no doubt they'll be chasing us," Taurua said. "Over the years, Fever have been one of those teams that can take anybody out irrelevant of where they sit on the table. They're definitely tenacious and defensively they go for everything and with Caitlin Bassett, they've got a scoring machine in the back there."
After playing Australian teams for the previous two weeks, the Magic struggled a little in adjusting to the New Zealand style in their latest outing but Taurua gave credit to Canterbury's defensive structures.
However, she is happy with the direction her team is headed and just wants more focus on dealing with what's at hand.
"When we look at the numbers, we have been doing a lot of things right," she said. "We tend to get too caught up in external things ... like the pressure, the scoreboard, the opposition, the umpire.
"It's about the team and that's the mental thinking we must be able to take into each game."
Acknowledging champion defender Casey Williams has made a slow start to the season, Taurua was not overly concerned. Citing the old adage, form is temporary and class is permanent, the Magic mentor has no doubts the spring-heeled defender will bounce back to her best.
In a blow to the team, the versatile Jess Tuki has been ruled out for at least three weeks after suffering a slight tear to a disc in her lower back.
- APNZ