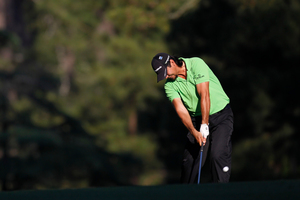 One frustrating month after an ankle injury forced his withdrawal during the Masters, Jason Day is back hungrier than ever to claim an elusive second US PGA Tour win.
Day returns at the Quail Hollow Club in North Carolina this week alongside the likes of Tiger Woods, Rory McIlroy and Lee Westwood and while still not fully fit, he's confident the left ankle strain will soon be behind him.
"It's feeling a lot better," Day said.
"It takes about six weeks to fully heal and I have taken about four weeks off, but the pain is gone. I don't think it will be an issue."
He will use this week's Wells Fargo Championship to feel his way back into competition before going all out at The Players Championship and Byron Nelson Championship in successive weeks.
The Players, sometimes known as the "fifth major", features one of the richest purses in golf, while Day's lone victory came in 2010 at the Byron Nelson.
"I'm probably at 80 per cent," said Day. "I won't be going full bore at it this week but it's part of three big tournaments in a row I want to play well in."
With just five US starts in 2012, one of those the Masters, Day has slipped to 120th on the money list and fallen from the world top 10 to 16th.
It's a slow start after his stellar 2011 when the Queenslander had 10 top 10s in the US, including runner-up finishes at the Masters and US Open, and then added two more in the Australian summer to reach No 7 in the world.
The 24-year-old says the enforced injury time off has made him even more eager.
"It fuels the hunger," he said. "I was so bored at home, I wanted to just get back out there and play.
"I haven't played that much this year and I'd like to be in a better spot on the money list and world rankings.
"But you can't play through injuries and expect to compete against the best so I am glad I took the break.
"There is a good chunk of tournaments coming up and I just have to be patient in my golf. That's the hardest part for me, not to force things because I really want to go out and do well and get a win but forcing it won't work."
Day said the silver lining to his forced lay-off was extra time spent with pregnant wife Ellie who is due with their first child in mid-July.
"It's 10 weeks away so I'm getting nervous but really excited," he said.
"This will be one of the best years of my life off the course because of the baby. I just want it now. I want to play with it, have fun and be a dad. I'm really excited."
Day re-confirmed his participation in the British Open is still up in the air because of the birth.
"Hopefully, Ellie can have it early so we can go over and play the British Open but that's not the priority. The priority is a healthy birth, with a healthy baby and a healthy Ellie."
Aaron Baddeley, Geoff Ogilvy, John Senden, Marc Leishman, Robert Allenby, Stuart Appleby, Nathan Green, Nick O'Hern, Gavin Coles, Mat Goggin and Monday qualifier Nick Flanagan round out the Australian tilt at Quail Hollow.
- AAP