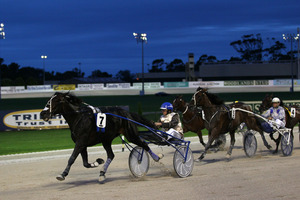 Bookmakers have a simple message for punters wanting to back champion trotter I Can Doosit in his final race of the season - go away.
TAB bookmaker Steve Richardson has put up the white flag by opening I Can Doosit at a miserly $1.25 to win the $150,000 Rowe Cup at Alexandra Park tomorrow night.
That is short for any horse in a group one race. For a trotter drawn the inside of the second line in our greatest trotting race it borders on insulting.
But Richardson is making no apologies.
"Horses shouldn't win group one races the way he won the Anzac Cup last Friday," Richardson told the Herald. "It is getting ridiculous. It doesn't matter what happens in his races, he just wins.
"He will be in everybody's multi bets and he might get out to $1.30 but that will be about it."
Richardson realises I Can Doosit is unlikely to attract much interest at $1.25 but that suits him fine.
"The problem is punters won't want to back anything else to beat him so it makes it very hard to balance any bets we do take on him.
"But I will open a four-way head-to-head on the other favourites."
I Can Doosit was the second half of a special Hot To Trot promotion by the TAB last Friday when they offered bonus odds on a double with him and stablemate Escapee.
They were swamped by punters but dodged a bullet when Escapee galloped and lost all chance.
Richardson reports the new head-to-head options have been popular with punters, with interest expected to grow for the format in both gallops and harness.
While I Can Doosit will stifle betting on the Rowe Cup, his stablemate Hands Christian has already been hit with a $4000 bet at $3.50 to win tomorrow night's $100,000 Messenger Pace.
The Easter Cup winner was denied racing room and galloped in the Chariots Of Fire in Sydney last Saturday but has been rushed home for the group one.
His price remained at $3.50 even after the large bet, with Terror To Love the $1.90 favourite and Gold Ace out to $4.60, long odds for him compared with his usual fixed odds quotes.
Disqualified trainer Tim Butt will remain on the sidelines after not being granted a stay of proceedings pending an appeal.
Butt was disqualified for six months last week for presenting Raglan to run in the Miracle Mile in November with arsenic in his system.
He has appealed against both the verdict and sentence and sought a stay of proceedings from NSW Racing Appeals Tribunal pending the appeal.
That was turned down so Butt's brother Anthony will remain in charge of Premier Stables at least until the appeal is heard.