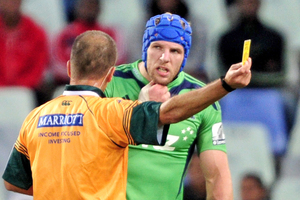 Highlanders flanker James Haskell has been suspended for three matches for striking Cheetahs counterpart Justin Downey in his team's come-from-behind 36-33 victory in Bloemfontein.
The ban means Haskell, an England international, will miss the Highlanders' matches against the Sharks in Durban, and home games against the Hurricanes and Bulls.
Haskell was shown a yellow card for the incident which happened in the first half of the match, despite an assistant referee recommending a red card. Referee Marius Jonker also showed a white card which referred the matter to a citing official.
Sanzar duty judicial officer Mike Heron found that Haskell deserved a three-week ban, which the player accepted.
In his report, Heron said: "The citing alleged that James Haskell punched the Cheetahs number 7 (Justin Downey) twice, the first with his right hand to Downey's head (after being held and retaliating) and the second with a left jab in the face. The citing alleged that the second resulted in Downey going down on his haunches holding his face.
The footage confirmed that, and Haskell accepted that he had punched the Cheetahs player twice. The citing report also stated that Downey received stitches for a gash on his eyebrow. That was confirmed by the medical report.''
Heron said the starting point for striking would be a five-week ban, with the injury to Downey increasing it to six weeks.
However, he said he took into account the provocation - Downey had illegally held Haskell back - and his record and remorse.
"In mitigation, Haskell immediately accepted his conduct was unacceptable. He apologised to the Cheetahs player and to me. He expressed significant remorse for his conduct, in particular for the impact it would have on his team. Haskell has a very impressive record over a period of approximately 10 years of professional rugby. I was told that he has no previous citings and has received only a single yellow card in his professional career (which was not for foul play). He has dealt with serious provocation in the past without resort to this unacceptable conduct. He is passionate about his commitment to the Highlanders and expressed sincere regret as to the impact this would have on his time with them.''
- APNZ