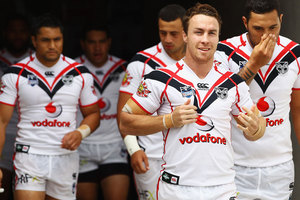 Warriors coach Brian McClennan says losing the lulls that have plagued their past couple of performances is the key to getting back to winning ways against Brisbane this weekend.
The two games against Souths and Melbourne, with two very different results, featured one similarity - solid and occasionally sparkling play soured by sub-par periods in which opponents strike.
A fortnight ago, the Warriors blitzed the Rabbitohs en route to a commanding first half lead before dropping their guard and allowing Souths back into the game either side of halftime. The Warriors eventually won 44-22 but failed to learn the lessons before their match against table-topping Melbourne.
There, the Warriors were within touching distance of handing the Storm their first loss of the season but conceded 18 unanswered points in the last 20 minutes which turned a tight contest into a rout.
And, as the Warriors prepare to host second-placed Brisbane on Saturday night, McClennan believed eradicating that kind of inconsistent play could kickstart their stuttering season.
"Number one, we've just got to get in a really good, full 80 minute performance,'' he said. "[Against Melbourne] I thought for 60 minutes of the game we were arguably the better team.
"There were two little 10 minute periods there where we just fell away. Same as against Souths - for 30 minutes in that first half we were outstanding ... but we have little lulls.
"If we can get those lulls right and just stay a lot more consistent, we feel like we can get in some good performances. We'll just concentrate on that and the points will come off the back of that.''
Warriors fans will hope he is right. After triumphing in only three of their first eight games, the Warriors are languishing in 12th in the 16-team competition.
It is, of course, still early days in what is typically a war of attrition, but beating the Broncos could be the spark the team needs to embark on the type of winning streak that was a hallmark of last year's run to the grand final.
McClennan thought playing the premier sides in the competition in consecutive weeks could be a good thing, with Melbourne hardening the Warriors before Saturday's showdown.
"I think that will bode well for us,'' he said. "We have got a bit of confidence out of some areas. We're disappointed about how we didn't defend errors, and the errors in the first place, and our edge defence.
"But I think we can make some good strides there, and what better way than to do it against Brisbane? If we can put in a great performance against them, it'll give us a lot of confidence going forward for the rest of the season.''
McClennan was mindful the Warriors had winnable fixtures coming up against the Roosters (9th) and the Tigers (11th) before the bye, but he was understandably wary about looking past the immediate challenge.
"We're coming up against a very strong, in-form Brisbane side. We know that we've really got to concentrate on that first and foremost.''
- APNZ