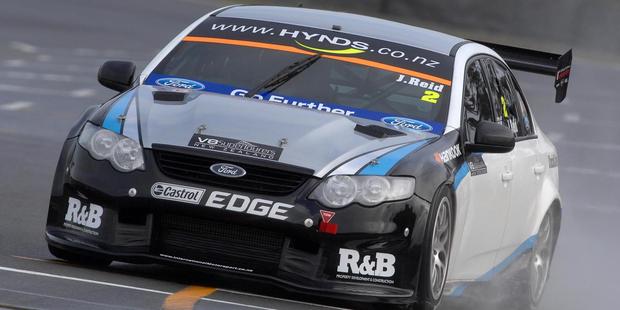 As mentioned in the preview to round three of the V8 SuperTourers in the Weekend Herald, the mechanical gods smiles on Jonny Reid last weekend and he stormed into the championship lead.
Reid won the weekend round and is now 88 points in front of John McIntyre and 362 ahead of Greg Murphy.
The Pepsi Max V8 Supercar drivers managed a win over the weekend in race three but the opening two races belonged to Reid.
"The important thing when you can feel the tyre going away is to be as smooth as possible and drive the car as straight as possible," said Reid.
"It wasn't just Ant [Pedersen] and I this weekend, the whole team performed at the sort of level you need to win this championship and that's what's important going forward."
There is now just over a month to go before the fourth round of the new V8 SuperTourers NZ series at Hampton Downs and it is going to be a very busy month for new points leader Jonny Reid.
He will contest two rounds of this season's V8 Supercar-supporting Carrera Cup Australia series plus complete a V8 Supercar test with the team he will drive for at Sandown and Bathurst this year, Techno Autosports.
The V8 SuperTourers NZ series heads to Hampton Downs over Queen's Birthday weekend. After that there is a break before a spring round in September (at a venue yet to be decided), the 500km international enduro round at Pukekohe in October, and the series finale at Christchurch's Ruapuna Park in late November.
Mason wins Wairarapa
Young rally sensation Alex Kelsey couldn't quite emulate his standout success at the opening round of the New Zealand Rally Championship in Whangarei and had to settle for third behind Emma Gilmour and hometown driver Richard Mason.
Mason had had his name on the Rally Wairarapa trophy six times but was very happy to have it etched once more.
"We have won it a few times now, but it never stops feeling good. It's always nice to win your home round," he said.
Gilmour won four stages before taking out a letterbox halting her charge up the table.
"Always fantastic roads up here, but it's a very challenging event because you have such a big day of recce on Friday, you're pretty tired by the start of the event," she said.
Kelsey's third place means he still leads the NZRC drivers' championship ahead of Mason and Gilmour.
"We can't wait to be first on the road at Otago," he said.
"I had to adapt and change my driving style but we really enjoyed it and the spectators enjoyed watching it too.
"Sweeping the road suits this car very well. It's amazing [to finish third] and to swap times with the big boys is great."
Dixon's bad luck
Scott Dixon's luck deserted him at round four of the 2012 IndyCar series in Sao Paulo, Brazil.
The Kiwi IndyCar driver qualified third behind teammate Dario Franchitti and pole-sitter Will Power.
Power was in control for most of the race and the only driver to pass him was Dixon. However, the Target Chip Ganassi driver knew he had to pit for an extra splash and dash. On re-entering the race he became tangled up behind an accident on a restart, went a lap down and settled for 17th.