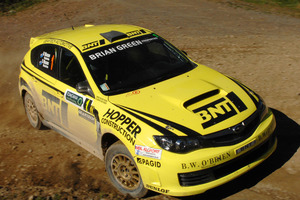 Masterton's Richard Mason has won the Trusthouse Racetech Rally Wairarapa, the seventh time the defending New Zealand rally champion has won his home event.
Competitors faced wet, cold and changeable conditions during the event which ran on roads to the north and northeast of Masterton which Mason described as "almost like two events; the first day is tight, twisty and slippery and the second day is fast, but narrow".
Having won nine of the rally's 16 special stages in his BNT-backed Subaru, Mason said: "We have won it a few times now, but it never stops feeling good. It's always nice to win your home round."
Dunedin's Emma Gilmour took four stage wins in her Vantage Aluminium Subaru before side-swiping a letterbox to finish second overall. Due to her more consistent results across the two NZRC rounds to date - Whangarei and Wairarapa - Gilmour leads the NZRC Group N four-wheel-drive class.
Gilmour said: "Always fantastic roads up here, but it's a very challenging event because you have such a big day of recce on Friday, you're pretty tired by the start of the event."
However it's young Coromandel driver Alex Kelsey who still has the lead in the overall NZRC drivers' championship ahead of Mason and Gilmour. In his open 4WD category Subaru, Kelsey came through Rally Wairarapa third overall having thoroughly enjoyed the experience of running first on the road as top seed, a position due to the 19-year-old having the championship lead after Rally of Whangarei earlier this month.
"We can't wait to be first on the road at Otago," Kelsey said. "I had to adapt and change my driving style but we really enjoyed it and the spectators enjoyed watching it too. Sweeping the road suits this car very well. It's amazing [to finish third] and to swap times with the big boys is great."
Rounding out the top five were Rotorua's Sloan Cox, who also scored a stage win, and Christchurch's Matt Jansen.
Among the top-runners for most of the weekend was Timaru's Chris West, but the former NZRC champ was forced out with mechanical issues in his Andrew Simms Mitsubishi just after winning today's (Sunday) fifth stage. Kerikeri's Kingsley Thompson was the only other NZRC competitor to win a stage, striking early by winning the very first stage yesterday (Saturday), but then suffered a puncture, an engine misfire and a spin. The Team Dilusi Mitsubishi driver finished eighth overall.
The NZRC also features two two-wheel-drive classes. Mt Maunganui's David Holder, the only entrant in the open 2WD class, was pleased to finish in Wairarapa after crashing out of the opening round in Whangarei. In the Group N 2WD class where Ford Fiestas typically rule, Tauranga's Phil Campbell was delighted to take the class win.
Campbell said: "We have been trying for a couple of years to win our class and it feels amazing to have finally done it. The roads down here suit the Fiestas perfectly."
Marcus van Klink, from Kaiapoi, dominates the historic challenge trophy category in his impressive Mazda RX7. He won this class again in Wairarapa despite a dramatic 'moment'.
"We got a bit carried away and went a bit too fast [near a strainer post] which nearly ended our rally, but the damage is mainly superficial," said van Klink, who has 84 points ahead of Havelock North's Ron Davey and Hamilton's Miles McElwain.
The next event in the New Zealand Rally Championship is the DriveSouth Rally of Otago. The only South Island rally in this year's championship runs May 25-27.

- APNZ