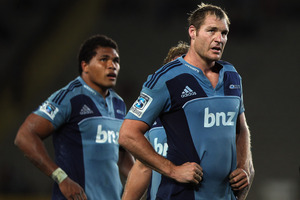 If it were a game of snakes and ladders, the Blues would still be on square one.
The maddening and most damning point to make about their 2012 Super Rugby campaign is that they have rolled the dice so many times and not yet moved.
They can't honestly say there's been a season of outrageous high and lows - that ladders have been climbed only for them to tumble down snakes. It just hasn't been like that and Friday night's 23-11 loss to the Reds was more of the same.
The same mistakes continue to be made: there is no evidence that players retain information from one week to the next and this is a side most definitely not advancing on any level.
Their lineout was again a shambles; tactically they again ignored the game-plan; they were a man short at every breakdown and blasted off the ball at crucial times; defensively they lost their structure; there wasn't a decent starter move in 80 minutes and probably because Tony Woodcock wasn't on the field, there wasn't a destructive scrum.
To make matters worse, Charlie Faumuina was a major injury concern with a damaged knee while Ma'a Nonu, who was enjoying his best defensive performance in an age, damaged his shoulder.
It was no wonder that coach Pat Lam didn't bother to run through the usual lines of the team being full of honest endeavour, all behind each other and working to the same plan.
"You know wet weather rugby - when the weather comes in - it becomes quite a simple game," said Lam.
"You have got to play field position and it comes down to who is going to make the least mistakes. You really want to get on the front-foot first and get ahead.
"But right from the start we were chasing the game. They struck early and then they fed off our errors. We just played in the wrong areas of the field, put pressure on ourselves and chased the game all night.
"It wasn't a step back in effort but tactically it was poor. Trying to play rugby when it has been bucketing down in our own half ... that was pretty much suicide. That certainly wasn't part of the plan and that is something we need to address."
The inability to stick to a simple, wet weather gameplan raises a number of concerns: firstly, who was leading the rebellion? Secondly, why would anyone think it smart rugby to be throwing long passes with a wet ball inside their own 22? And thirdly, have the players simply stopped listening to the coaching staff?
All of these questions will be asked this week but who know holds any faith they will be successfully answered before the team takes on the Hurricanes in Wellington?
The Blues are classic recidivist offenders - they review, they analyse, they make great statements about being on the path to recovery, only to commit all the same errors in the heat of battle.
There were just 12,000 people at Eden Park - compare that with the near 30,000 who were there on opening night. If they lose to the Hurricanes then they will be facing the worst imaginable scenario when they return to Eden Park a week later - a wooden spoon decider with the Lions.
How far the Blues have fallen is now a national concern. The game needs a strong base in Auckland where competing interests are many and varied.
Almost a quarter of the country live in the greater metropolitan area and the prospect of having a Super Rugby team that's in terminal decline is not acceptable.
The Highlanders got themselves into a terrible pickle between 2008 and 2010 and were helped out by the national body. It's probably about time the national body stuck its nose into the Blues' affairs and began to ask hard questions - starting at the very top.
If they are reluctant now, the sight of the two worst teams in the competition playing in front of a virtually empty Eden Park might persuade them otherwise.