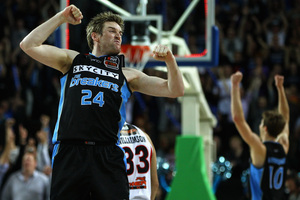 It was an outrageous piece of vandalism - the person who painted the Mooloo bell Auckland blue knew how to cut a man to the quick.
Little did they expect that a few short weeks later, the colours of Chiefs country - based largely on Waikato's iconic red, yellow and black - would be sitting on top of the Super Rugby table.
It's turned out to be one of the bonuses of being a smalltown boy still recently fresh to big-city Auckland. The blue Mooloo bell can sit happily in the office, next to the framed No 7 jersey of Marty Holah, for as long as the Waikato-based Chiefs stay ahead of the Blues.
As unexpected as the rise of the Chiefs has been, there was always going to be a heap of positives for a sport fan moving to a city that is home to the Blues, Breakers and Warriors.
You can set out to be a sports marketer's nightmare. With no loyalty, no season pass and no desire to lock yourself into a regular routine, you simply go where you want.
And my observations of 18 months viewing three of the country's biggest sports franchises might be useful to the various sports' administrators.
Firstly, the casual sports fan doesn't follow winners. He punishes losers. Two weeks ago, on a glorious Sunday afternoon, my partner suggested we head off to watch the Warriors take on South Sydney at Mt Smart Stadium. "They don't deserve my money," I snapped.
The abject losses to the Roosters and Raiders in the previous two weeks had sapped my patience. The players couldn't even be bothered hitting the line with any intent, so I wasn't opening the wallet. They subsequently put the Rabbits away and tore into the Storm on Wednesday with such conviction early on that despite that loss, I'd be happy to fork out to see them against Brisbane next weekend.
Likewise, I haven't paid to see the Blues this year; and I won't. They are awful and if the leading players can't be bothered getting themselves into shape, why would anyone battle the traffic to get there?
Which leads on to point two. Timing is everything. Who would travel to watch live sport in this city on a Friday night? It's chaos. I spent one hour in a taxi last year travelling 4km to a Blues game. I could almost have got to Waikato Stadium in that time. Trying to get anywhere on a Friday night is impossible.
Friday nights might suit the TV moguls but they arrive to their corporate boxes 90 minutes before kickoff.
Combine a losing streak with a Friday night fixture and you have the ultimate turn-off. It's why the Blues could play their games at the YMCA - the spectators would still fit in. There are rare exceptions, and a Friday night at Vector Arena, watching the Breakers, is one.
A handy walk from town, loads of decent pre-match watering holes and a stadium you sit in and wonder at means this place is hard to top. Even if they aren't winning (and who can remember that?) it's a fun night out. It's by far the best place we have to visit as sports fans. Why didn't someone think of putting a rugby stadium somewhere near the water?
Eden Park still rates No 2 as an Auckland venue - it is the only place in the country capable of holding the size crowd you see at the big stadiums overseas, and capable of generating the atmosphere that comes with it. Sadly, we're left to rely on the All Blacks and rare league tests to get anywhere near filling it.
The Breakers' North Shore Events Centre is a fun stadium that holds the noise and has only one major drawback - unallocated seating. With the team winning more often than not right now, if you're not there an hour before the game, your party of four is likely to be split across three grandstands, with you ending up next to the fat, smelly guy constantly looking for somewhere to wipe his popcorn drenched fingers. It leaves Mt Smart at the bottom of the heap, looking everything like the historic remnant it is.
So it's not just what happens on the field that counts; deciding on a sports date comes down to the pulling power of a team's players, quality of venue, transport options and timing of the game. To help fellow sports floaters, here's my rankings (rate the three franchises out of five on those four metrics, divide total by four): Breakers (at Vector) 4.25, Breakers (at North Shore) 3.25, Warriors 3, Blues 2.75.
Simple really. And I promise to watch some women's sport live one day soon.Bryce Johns is the editor of the Herald on Sunday.