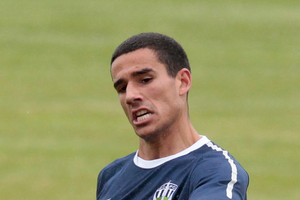 Young Auckland City midfielder Alex Feneridis hopes to make a memorable season even better with a successful defence of the club's O-League title.
City welcome Tahitian outfit Tefana to their Kiwitea Street home tomorrow afternoon in the first leg of the final, with a win giving them a great chance of booking a return to the Fifa Club World Cup - and the US$500,000 pay cheque that brings.
Another title win in the Pacific's premier club competition would continue a string of triumphs for Feneridis, who has used this season to help City become minor premiers in the domestic ASB Premiership and been part of the Oly Whites' march to the London Olympics.
"It's been a very exciting year so far - I've had a lot of opportunities and have played in some big games," the 22-year-old said. "There's a few more big games coming up so hopefully I can earn some medals and look to kick on from there."
One medal Feneridis won't be earning is the ASB Premiership after City were knocked out by Team Wellington at the semifinal stage last weekend.
The loss was a massive disappointment to a club that has set such high standards domestically, but Feneridis is confident the squad will bounce back in fitting fashion.
"The boys are excited about having the chance to redeem ourselves after the semifinal. We've trained well and it's been intense all week. Everyone is looking forward to getting a decent lead going into the away leg (in Papeete in a fortnight)."
Feneridis has played a big part in getting City to this point - his last-gasp equaliser against Hekari United in Papua New Guinea ensured qualification for the final - and he is happy with his progress under coach Ramon Tribulietx.
"I think I've done pretty well so far. I've been looking just to grow as a player and a football personality throughout all my seasons at Auckland City. Being around the experienced players here, especially the stars that Ramon has brought over from Spain, has helped me learn."
Despite City's failure to win their last two O-League matches, Feneridis refutes claims their form has dropped off.
"The draw in Papua New Guinea was a good result and I don't think people appreciate how hard it is to play over there. And the loss in Vanuatu was a dead rubber game so there were a few players that didn't travel due to avoiding suspensions and various other reasons. Everyone is still pretty confident we can get a result, especially at home."
Feneridis is hoping he can follow another O-League title triumph with an appearance at London 2012 but knows how difficult it will be to make the cut when the final squad is named by coach Neil Emblen.
"The draw was very exciting, we're going to be playing in some big stadiums against some big names. Now we're all just waiting and hoping that the three of us involved in the qualifiers - myself, Adam McGeorge and Ian Hogg - can get some good news about the squad," he said.
"You have to be confident in your own ability. We know there are professionals to come in and the over-age players are going to cut down the spots for the guys that actually qualified. There is probably only going to be five or six spots realistically available for us. It's going to be pretty cut-throat but that's sport."
- APNZ