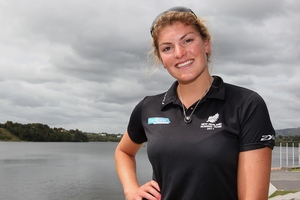 Three years ago Eve Macfarlane had given most sports a crack at high school, and invariably with plenty of success.
At 16, she got a tap on the shoulder. Did she fancy having a crack at rowing?
"They said, 'You should come and give it a go,"' Macfarlane recalled.
And so began a remarkable three years, culminating in a trip to the Olympic Games in July as part of a fast-improving quad team.
That tap on the shoulder back in the schoolgrounds quickly looked fortuitous.
The school, Rangi Ruru, was the immediate beneficiary of a rowing talent which has been described as simply natural.
That's the term Rex Farrelly, for over 20 years rowing manager and organiser at Rangi Ruru, used to describe the strapping 19-year-old of country stock, hailing from Parnassus, north Canterbury.
"Whatever she did, she was right there at the top level," Farrelly recalled. "I thought, 'Gee, we should get someone like that into rowing.' There's very few natural rowers. Eve was one."
Gary Hay, one of New Zealand's elite rowing coaches, and then coaching the Rangi squad, knows what Farrelly meant.
"She possessed the natural timing and rhythm you look for in a rower," Hay said. "She had all the obvious physical attributes, the length of her arms and legs, incredible reach and she's strong. She was made to row really, in terms of her physique."
Within months of stepping into a boat, Macfarlane was off to the world junior championships in France, winning silver as part of the eight. The following year it was gold in the coxless four in the Czech Republic.
There were five titles for Rangi at the 2009 Maadi Cup regatta; three more a year later.
Now, having skipped the under-23 age group category, Macfarlane is in the stroke seat for the quad heading to London, under the guidance of Rowing New Zealand's head coach, Dick Tonks.
"Jumping into the elites at a young age is fine because everyone is supportive," Macfarlane said. "If you need a chat there's huge support."
Talk to rowing people about Macfarlane and a clear picture emerges: a conscientious trainer, constantly working hard to improve herself, polite and someone who - in the words of Rangi Ruru's assistant manager and camp mother on regatta trips, Linda Brettell - "just fitted in, well behaved, and modest - even though she was zooming in and passing others with her ergs. She certainly wasn't a clown, and was very keen to do well and learn."
Ergs, those machines on which rowers spend hundreds of hours training off the water, aren't exactly fun, but Macfarlane enjoyed the challenge. Once she was out on the water, things just got better.
Her years in rowing have been a near-constant success story for Macfarlane.
The quad, also including Sarah Gray, Fiona Bourke and Louise Trappitt, won bronzes at the Hamburg and Lucerne regattas last year, then took third place at the world championships in Bled, Slovenia, which secured a trip to the Olympics.
That worlds success showed "that we're right up there", Macfarlane said. "We've got to take confidence from there and build on it."
She admitted the world champs bronze was a slight, if welcome, surprise for a young crew.
"We were a bit shocked but now we know where we stand."
It says something for their potential that they are one of Tonks' four Olympic crews, alongside five-time world single sculling champion Mahe Drysdale, strong medal contender, women's sculler Emma Twigg, and coxless pair Olympic favourites Hamish Bond and Eric Murray.
"I really like his coaching style. It's pretty unique but think I work well with it. When he says something you really take it on board, because it's quite rare," Macfarlane laughed.
Things are travelling along nicely for four women who may yet prove to be a surprise package at the Games regatta at Eton's Dorney Lake.