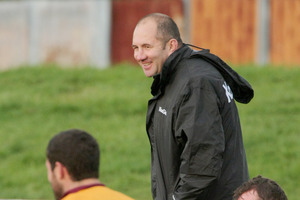 Tom Coventry played more than 50 games as a loose forward in the red, yellow and black Waikato jersey.
He rumbled with a provincial pack of widespread pedigree with men such as John Mitchell, Duane Monkley, Richard Jerram, Brent "Buck" Anderson, Steve Gordon, Graham Purvis, Richard Loe and Warren Gatland.
But Coventry reckons he learned more about the sport sitting on the reserves bench for another 60 matches.
"I soaked up all the ideas and information, and I guess I have used a fair chunk of that as I have gone on."
The 46-year-old is the Chiefs' assistant coach with responsibility for the forwards, a bloke who first tested the coaching world as a physical education student at Otago University.
That interest has moved into the professional area and since 2002 Coventry has been working with the Chiefs' development squad, NZ Schools, NZ under-20s, Hawkes Bay, Samoa and now the Chiefs.
Men such as Glenn Ross at Hamilton Boys' High then Rex Thompson at Phys Ed school, Laurie Mains and Gordon Hunter down south, shaped his rugby thinking.
"I always had a critical sort of eye when I played and in 1985, when I was a student, I was on one of Bill Freeman's coaching courses and that set me on my way," Coventry said. "I did not have aspirations to be a fulltime coach when I was playing, that has evolved though into fulltime work."
A near decade in Waikato colours included winning the national championship and Ranfurly Shield as the Mooloos broke down Auckland's dominance.
At 1.88m and 100kg, Coventry was a strong allround loose forward but had to give way most times to Jerram who was a taller lineout option on the blindside.
The learning was taking hold.
Coventry is big on a back-to-basics approach in coaching forwards.
"In the modern game, some of the roles seem to have got blurred with forwards being asked to be ball-carriers, run dummy lines or plays in midfield - they are being asked to do things which are not their work.
"The core role of a forward is to win ball, to produce go-forward, to win set piece possession from kickoff, lineouts and scrums and to go forward.
"If they do those things then they can carry. The same principles apply from club to test rugby."
Coventry felt observers were often seduced by what happened after the ball was won, rather than the work done to get it. "First things first is my philosophy. You have to get the ball to be able to play."
At the Chiefs, Coventry, head coach Dave Rennie, Wayne Smith and the rest of the staff have reshaped players' habits.
For Coventry that means job-sharing among his pack. He wants them all to hit rucks and carry possession, tasks had to be interchangeable so the forwards were more effective and less predictable for opposition defenders.
"You can win rugby lots of ways but if you get that formula working you will win more than you lose," he said.
The opening-round loss to the Highlanders reinforced Coventry's thinking. It showed up deficiencies, the reliance on individuals to complete tasks instead of allround competence.
Some players hit 50 rucks that game and others only six. That imbalance needed to change.
"We had to share the load better and we had to go back, unpick some of our work, to go forward," he said.
At the Chiefs, all squad members are expected to deliver. Those demands hit early when props Ben Afeaki and Toby Smith were injured.
Ben Tameifuna and Sona Taumalolo were whistled into action and have been going gangbusters.
"I wasn't surprised," Coventry said.
He had seen plenty of the pair playing in the Hawkes Bay and knew both were capable.
Tameifuna was a massive man and talented.
A lot of effort had gone into his development and he had responded, the coach said.
Taumalolo revelled in more rugby. He prospered the more he was encouraged and his attitude was infectious. He would be a huge loss next season to Perpignan.
Hookers Mo Schwalger and Hika Elliot were great competitors and teammates and that mini-unit was the sort of coaching blend Coventry encouraged.
The sort of close-knit cohesion which has given the Chiefs a great boost in this year's Super 15.
Chiefs v Hurricanes
Hamilton, 7.35, tonight
Andrew Horrell
Lelia Masaga
Richard Kahui
Sonny Bill Williams
Tim Nanai Williams
Aaron Cruden
Brendon Leonard
Alex Bradley
Tanerau Latimer
Liam Messam
Brodie Retallick
Craig Clarke (c)
Ben Tameifuna
Hika Elliot
Arizona Taumalolo
Chiefs: Mahonri Schwalger, Toby Smith, Michael Fitzgerald, Sam Cane, Augustine Pulu, Jackson Willison, Asaeli Tikoirotuma.
Andre Taylor
Cory Jane
Conrad Smith (c)
Tim Bateman
Julian Savea
Beauden Barrett
TJ Perenara
Victor Vito
Karl Lowe
Faifili Levave
Jason Eaton
Jeremy Thrush
J. Toomaga-Allen
Dane Coles
Ben May
Hurricanes: Motu Matu'u, Reg Goodes, Mark Reddish, Jack Lam, Chris Eaton, Charlie Ngatai, Alapati Leiua.