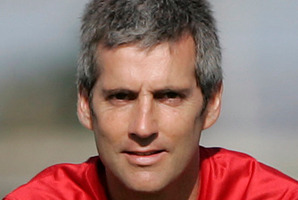 The outcome of tonight's ASB Premiership grand final will be decided simply by which Waitakere United team turns up at Trusts Stadium.
Another classy display like they turned in to wallop Canterbury United 5-2 in a must-win second leg semifinal six days ago would, surely, be good enough to see off Team Wellington - the form team of the moment - but a return to some of their limp efforts, particularly at the business end of the season, would have Waitakere supporters despairing.
First season Team Wellington coach Matt Calcott brings a team north brimming with confidence for tonight's game. He would, for certain, be bemused by the odds-makers who have the hosts as better-than-warm-favourites, especially in light of their current seven-match winning streak which includes semifinal home and away wins over minor premiers Auckland City.
In three of those matches, all away, Wellington scored six goals. In total they netted 28 times and conceded just five.
Waitakere coach Neil Emblen, chasing his club's third successive grand final triumph - against a third different team - has a selection conundrum following Sunday's dramatic win without suspended Tim Myers, who seems set to return but just where he will play remains open to conjecture.
"I have a big decision to make," said Emblen. "Tim is obviously an Olympic prospect and has been one of our number one picks all season. He missed last Sunday's game through no fault of his own. Team Wellington are very strong at the back and are dangerous on the counter-attack. We will have to be wary."
Both teams have players back from their last big-time clash, the 2007-08 final, won 2-0 by Waitakere. That experience could prove vital.
The visitors have former Waitakere player Dakota Lucas - last season's two-goal man of the match in the 3-2 win over Auckland City in the final - to spearhead their attack while at the back they have been impressive, and miserable.
Tomorrow's attention will be on Kiwitea St and Auckland City's bid to turn around their recent out-of-sorts performances to regain winning form and a solid start to the two-leg O-League final against a rejuvenated AS Tefana.
"Football always gives you a second chance," said City coach Ramon Tribulietx. "We played two good games in the premiership semifinals, created a lot of chances but our lack of accuracy cost us. We hope we can turn it around."
Tahitian champions Tefana have bounced back from that painful 10-0 drubbing from Waitakere in the opening round (in October) and booked their place in the final with four wins and a draw in their remaining five matches. They will, however, be without Sebastien Labayen (suspended), Hiva Kamoise and Viritua Tiaiho (sitting exams) and injured Manutahi Teremate.
The finals
ASB Premier grand final
Waitakere United v Team Wellington
Trusts Stadium, 7.35 tonight
Referee: Nick Waldron
O-League final (first leg)
Auckland City v AS Tefana (Tahiti)
Kiwitea St, 2pm tomorrow
Referee: John Saohu (Solomons)