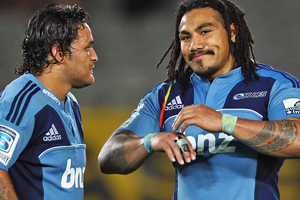 Loyalty is a difficult word to define in professional rugby. It's even harder to know whether it has any real place or is a quaint concept that ceased to be relevant the instant rugby went professional in 1995.
To whom exactly does a player these days owe loyalty? Everyone can be bought and sold; careers are multi dimensional in that they are not just about games won and lost; there is a commercial reality for many that they want to reach retirement age with plenty in the bank.
Old timers can spit feathers about those they perceive to lack loyalty and normally it's easy enough to dismiss them as out of touch; stuck in a forgotten world where that kind of thing mattered.
But if anyone were to suggest that both Piri Weepu and Ma'a Nonu owe the Blues some loyalty, could they be so easily dismissed? Nonu was dumped by the Hurricanes last year.
It was a humiliating and difficult episode for the All Black line-breaker. His confidence was rocked and his disappointment deep at being treated so harshly and coldly by a franchise he loved and had played more than 100 games for.
The Blues were the knights to the rescue. They took a risk buying Nonu but the fact they were so keen, was enough to restore his confidence. The Blues gave him the chance to rebuild, to prove some doubters wrong.
It was much the same in the case of Weepu. It's never become clear whether the Hurricanes really wanted him to stay or whether they were just making half-hearted noises.
Whatever, the Blues made a definitive statement when they bought Weepu - hailing him a special player no matter what the Hurricanes believed.
So far, neither Nonu nor Weepu has given their new franchise much. Nonu because he looks tired and uncertain as a result of only finishing his Japanese sabbatical in late February. Weepu, as the world presumably knows, came back from the World Cup and its associated celebrations, a touch more portly than anyone imagined was possible.
This season has been a disaster for the Blues and overshadowing all the chaos has been the unshakeable perception that the two Hurricanes imports will be scurrying off at the end of the season.
That may be unfair and untrue but neither has given the impression they see Auckland as a long term option. Weepu even plays club rugby back in Wellington in his downtime and it's not a great look. The Blues probably deserve a little more than one season from both of them. Loyalty is a difficult concept but in this case, the 'right' thing to do is for both of them to sign on for more and vow to give a bit more.
Just as it's a bad look for Weepu to play his club football in the capital, it will be equally bad if both take off after one horrific season.