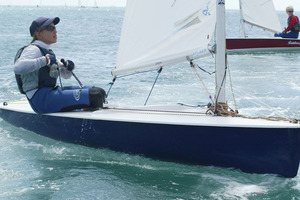 New Zealander Andy Maloney sits third overall in the laser gold fleet at ISAF World Cup regatta in Hyeres, France.
Maloney overnight finished third and fifth in his two races, with his worst result discarded.
Andrew Murdoch is one point behind him following two sixth places and is tied for fourth overall alongside Australian Tom Burton with one more day of racing before the final series.
Another laser sailor, Sam Meech, slid back to 13th overall after two finishes around the middle of the gold fleet. Thomas Saunders, sailing in the silver fleet, finished fifth and fourth. He has moved up to 38th overall and second in the silver fleet.
In the 49er class, Peter Burling and Blair Tuke's disqualification from their first race overnight saw them drop down the leaderboard to 13th. Their training partners Marcus Hansen and Josh Porebski have made their mark on the first races of the silver fleet, winning the last race after a third and sixth place finish in previous races.
Dan Slater is fourth overall in the finn class.
Natalia Kosinska had sixth and 14th place finishes in the Women's RS:X gold fleet so she remains in 10th spot overall. The final medal race tomorrow (Fri) is for top-10 competitors only.
The women's match racing crew helmed by Stephanie Hazard won four of their matches and will await the final results of the round robin to determine their placing to the repechage round.
New Zealand's standings after day four of the ISAF World Cup regatta in Hyeres
Laser (106 entries)
3rd Andy Maloney 16 pts
4th Andrew Murdoch 17 pts
13th Sam Meech 60 pts
38th Thomas Saunders 61 pts
89th Michael Cate 172 pts
49er (56 entries)
13th Peter Burling and Blair Tuke 76 pts
29th Josh Porebski / Marcus Hansen 85 pts
RS:X Women (40 entries)
10th Natalia Kosinska 70 pts
Finn (41 entries)
4th Dan Slater 31 pts
7th Matt Coutts 49 pts
Women's Match Racing (17 entries)
Stephanie Hazard, Jenna Hansen, Susannah Pyatt 6 wins, 10 losses
- APNZ