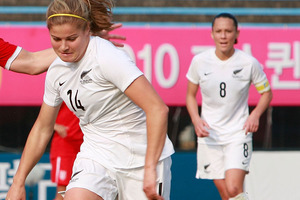 The Football Ferns will open the London Olympics with a dream match-up against host nation Great Britain.
That comes thanks to yesterday's draw for the Games, which also threw up two mouth-watering fixtures against Brazil for both the Ferns and the Oly Whites.
The Ferns will meet Great Britain at Cardiff's Millennium Stadium on July 25 two days before the opening ceremony, before squaring off against two-time silver medallist Brazil at the same venue three days later. Then they wrap up pool play against Olympic debutant Cameroon at the City of Coventry Stadium.
The Oly Whites, captained by Ryan Nelsen as one of three over-age players in a mostly under-23 squad, open their campaign against Belarus on July 26 in Coventry. They play Egypt at Old Trafford on July 29 before running out against a likely star-studded Brazilian line-up at Newcastle's St James' Park on August 1.
Both New Zealand coaches were buoyed by the combinations, with men's coach Neil Emblen stressing the importance of the team's first two fixtures.
"There's one absolute powerhouse in our group," Emblen said. "Brazil's the game that will catch the eye. But there's two other strong footballing nations in our group. However we think they are games we can look at with real hope we can go and get some points.
"We're playing Belarus and Egypt, as are Brazil, who'll be clear favourites to win the group," said Emblen. "So a win and a draw may be enough to get to the next stage where anything can happen."
Women's coach Tony Readings said his team would treat the opening game as an honour but would certainly not afford the hosts any favours.
"It's always a privilege to play in these events. To draw the hosts to open the entire Olympic Games will be very special for our team." said Readings.
"But we've got three difficult games and our mission is the same whether it's opening game or final pool game. We're out to get the points we need to secure a top-two placing in the group."
- APNZ