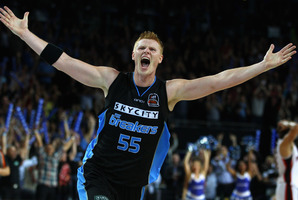 He's been a crucial contributor to the Breakers' back-to-back championships, but fiery import Gary Wilkinson will only return next season if he is prepared to accept a back-seat role.
Wilkinson poured in the points to lead the club in scoring in the regular season and was also the chief contributor in games two and three of the finals series.
However, plans to promote local talent Alex Pledger into the primary centre spot next season would result in a reduced role for Wilkinson, something he may well choose not to accept.
"Obviously I've got a lot of years playing in me and if they see Chief [Pledger] as their future then we just have to see how that is going to work," Wilkinson said. "I am more than happy to watch Chief flourish because he deserves it.
"I would love to have a three-peat, but it's a matter of where the organisation is headed and where I fit into the whole scheme of things. With the Chief making huge strides, I would bank on him in the future."
The big red head's passionate and outspoken approach to the game saw him become a hate figure in Perth. However, Wildcats coach Rob Beveridge insisted the dislike was partly based on admiration and suggested Wilkinson would have no shortage of suitors in the league if he didn't remain at the Breakers.
"We actually love Wilkinson," Beveridge said. "He is one of these players where you love him or hate him and as an opposition coach you hate him. But there is no doubt I'd want him on my team."
Breakers coach Andrej Lemanis said Wilkinson would have to accept a change of role to remain at the club.
"He's a passionate player, the fans like him and he is fun to be around," Lemanis said. "There is an unbelievable confidence in him that rubs off on the group. They are all great, positive things. It's [about] finding the role. We'll sit down with Gary and explain the role that we have available. If he wants that role then absolutely he can have it."
While seven of the 10-man primary roster are under contract for next season, point guard Cedric Jackson appears unlikely to return. The club is also yet to commit to Leon Henry as it must wait to see how he would fit under the league's points-based cap.
The club will also be adopting a wait-and-see approach with local star Tom Abercrombie. While Abercrombie recently signed a three-year extension, the contract does contain out clauses that would let him leave to pursue better opportunities.
Abercrombie confirmed he would be attending try-outs in America during the off-season.
"I am happy where I am, but I'll hopefully go and get some workouts or something over in the States during the off-season," Abercrombie said. "First of all I'll get the ankle right and get back to 100 per cent."
That badly sprained ankle meant Abercrombie was severely limited in the grand final series, although he did manage to produce a stunning game-saving block on Shawn Redhage to ice Tuesday night's title decider.
"If it was a normal game I probably wouldn't have played, but I was fighting through it and doing whatever I could to help the team," he said. "The ankle had one little hop left in it so I used it for all it was worth."
Abercrombie confirmed he would sit out the NZNBL and instead report for Olympic qualifying duty with the Tall Blacks on June 4.
"I'm going to give the body a little break. It has been going three-and-a-half years now without a stop so it will be good to have a couple of weeks off."