NZ Breakers 79
Perth Wildcats 73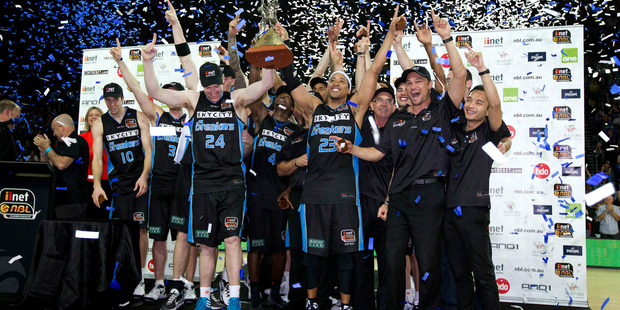 Basketball is cool all of a sudden.
There are plenty of reasons, but the main one is obvious - nothing is cooler than winning.
The celebrations were raucous as the Breakers were crowned two-time ANBL champions last night after beating the Perth Wildcats.
As the players took turns cutting down the Vector Arena net, each snip of the scissors was met with a cheer.
Auckland has long been considered the powerbase of New Zealand rugby; could it be becoming a basketball town?
Even in their wildest dreams, the Breakers' owners and staff would have struggled to imagine tickets for the club's matches being flogged online for five times their face value.
This season, the club decided to switch three regular-season games from the creaking North Shore gym that is its traditional home to the much larger Vector Arena.
The hope was that enough people would show up to make the venture into the central city sustainable.
Filling all 9000-plus seats, though, was surely a pipe dream. As it turned out, not even the cavernous Vector was big enough to accommodate all those who wanted to grab their piece of the Breakers in the flesh.
Tickets to last night's decisive match in the three-game final series sold out in about 30 minutes. Winning is cool, all right.
The best team in the competition all year, the Breakers notched their achievement playing a thrilling brand of basketball.
Whereas last year's breakthrough title success owed plenty to the individual brilliance of Kirk Penney, this year the Breakers were simply the best team.
They had their stars, such as local boy Tom Abercrombie and import Cedric Jackson, but the Breakers won because they had the deepest squad.
That depth was truly tested when Jackson and Abercrombie sustained ankle injuries during the playoffs, but the bench players asked to take up the slack did so admirably.
Back-to-back titles certainly don't qualify as a sporting dynasty. But the way the Breakers are going, they might eventually be the start of one.
The last few minutes were as tense as New Zealand's last big final, last year's nail-biting Rugby World Cup, but in the end the Breakers triumphed.
On the final hooter, the Breakers embraced and high-fived each other as the crowd burst into wild celebration.
A relieved CJ Bruton said the series had been an "amazing journey".
"You play your heart out and you got to let your chips lay where they lay ... The fans were over the top a little bit, but they did what they needed to do to get the win to bring it home."
Jubilant coach Andrej Lemanis said he "had never been more proud of this group".
And Abercrombie, who saluted the crowd after the final hooter, said he was ecstatic at the result.