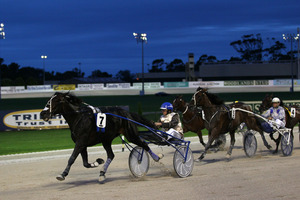 Trotting hero I Can Doosit's near perfect season may have hit a speed bump heading into the inaugural $200,000 Anzac Cup.
The 2200m glamour trot at Alexandra Park on Friday night brings together the best field of the season and I Can Doosit has received the worst possible draw.
He will start from one on the second line, a tricky getaway point over 2200m mobile at Alexandra Park.
While fast beginner Springbank Richard has drawn the ace, the front line also contains speedsters in Dr Hook, Raydon and Sovereignty and I Can Doosit faces settling a long way off them over a distance where they are unlikely to stop quickly.
It makes the race where I Can Doosit was expected to become our fourth-ever $1 million-earning trotter one of his toughest career tests.
Also facing potentially tricky draws are star pacers Terror To Love and Gold Ace in the other feature, the $100,000 Taylor Mile.
The pair will start from barriers four and seven respectively and while that doesn't sound too bad, it is made more inconvenient by Aussie raider Mustang Mach drawing three, with champion mare Bettor Cover Lover at two and Jarcullembra the ace.
Markets for the Alexandra Park features will open today, as will New Zealand TAB markets on the group ones at Menangle on Saturday night.
The NSW Derby is dominated by New Zealand heat winners Ideal Scott and Smolda, with Hands Christian a second favourite for the A$200,000 Chariots Of Fire after his easy prelude win over Australian star Sushi Sushi last Saturday.
Sir Lincoln is rated the second favourite for the A$200,000 Len Smith Mile but has a poor draw whereas Smoken Up has drawn the ace.
Feature fields:
R9 9.00: Taylor Mile 4YO FFA Mobile Pace, $100,000, 1700m. - Jarcullembra (1), Bettor Cover Lover (2), Mustang Mach (3), Terror To Love (4), Easy On The Eye (5), State Of Affairs (6), Gold Ace (7), Excuse Maker (8) fr.
R10 9.30: Glenferrie Farms ANZAC Trotting Cup, $200,000, mobile, 2200m. - Springbank Richard (1), Neville Vaughan (2), Dr Hook (3), Fayanni (4), Paramount Geegee (5), Stig (6), Raydon (7), Sovereignty (8), I Can Doosit (21), The Fiery Ginga (22), Musgrove (23), Moment Of Truth (U1), Springfield Hero (U2) fr.
One of New Zealand pacing's greatest exports, Village Kid, died yesterday aged 31 in Western Australia.
The former South Auckland pacer, who was by the colonial sire Gramatan, won the 1986 Interdominion Grand Final and two Miracle Miles in his staggering 93 career wins.