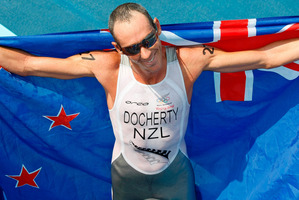 The country's top Olympic triathlon medal contenders might consider gifting some of their taxpayer-funded performance enhancement grants (PEGs) to other team members to guarantee the best chance of a podium finish at the London Games.
The Herald on Sunday understands such a deal enabled Shane Reed to assist Bevan Docherty to his bronze medal at Beijing.
A similar approach is yet to be confirmed among the London candidates but could be an option closer to the event. Such tactics generally only involve the cycle leg where draughting can come into play.
Triathlon New Zealand chief executive Craig Waugh says he'd be comfortable with a payment-for-medal plan, provided there was group consensus: "I don't think they're anywhere near those conversations yet but if it is something the team wanted to discuss, then I'd listen. I'd totally support and embrace such a strategy if the team thought it would assist their success. Medals mean everything."
If such team tactics - financial and physical - were used, the women's race might be a starting point. Andrea Hewitt has been in phenomenal form, ranked as the No 1 Olympic contender.
Hewitt could have the strength in her legs protected for the run by drafting off the efforts of a fellow New Zealander, provided they are in the lead bunch.
A strong rider like Nicky Samuels - the national road racing champion - could get such a job which would also involve hauling in breakaway groups, as happens on the Tour de France, to give Hewitt a better medal chance.
However, it would require Samuel's consent. After recovering from heart surgery earlier in the year, her 12th in Sydney last weekend when she surged through the field on the run, shows she may have the credentials to contest the race on her own.
Alternatively Kate McIlroy remains an unknown quantity. She had a limited run preparation for Sydney because of an Achilles tendon injury.
Former Olympian Debbie Tanner will remain on standby until the Games as a result.
The men's side seems less likely to use an all-for-one team approach, unless 23-year-old Ryan Sissons sacrifices himself in his Games debut. As a double Olympic medallist, Docherty (35) is unlikely to be taking one for the team with just a gold medal missing from his CV.
With a 35th birthday this week, London could also be Gemmell's last shot at Games glory, having suffered angst in the past. He missed selection for Athens and injured his foot before Beijing, finishing 39th.
Gemmell says a payment situation is only likely to occur if an incumbent gets injured pre-Games: "If injury stops one of us from performing and they bring someone else in, that could be an option."
Rather than using training partner Sissons in such a role, Gemmell says the newcomer would be better testing his own boundaries.
"Ryan could potentially risk everything by pushing his training programme to the maximum. If he struggled in the build-up, he'll still learn something, but if there's even a 10 per cent improvement, bang, you have a medal superstar in the making."
National coach Greg Fraine says they will look at the team tactics approach, but not at this stage, with further ranking points to earn at world championship series events in San Diego and Madrid next month to qualify three athletes in each event.
"In Beijing, Bevan was a great bet for a medal. He needed a job done and it was about making sure he was in the front bunch from the beginning.
"He looked after himself but the delivery into transition two for the run was vital, so seconds were not lost slipping back in the pack. That's where Shane [Reed] came in. He played a massive part.
"It's something we could look at down the track but right now we have six athletes there on merit. We'll make the decision internally as a group."
Triathlon New Zealand will receive a total of $6.155 million in high performance taxpayer funding over this Olympic cycle.
New Zealand has picked up gold, silver and bronze medals since triathlon debuted at Sydney in 2000. A Kiwi woman is yet to win an Olympic medal.