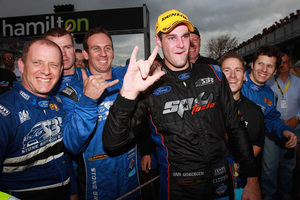 During the 100 minutes that Shane van Gisbergen is tearing around the track this afternoon, only one person will be in his ear.
As he reaches speeds of up to 250km/h over the 59 laps, race engineer David Stuart will work to keep him calm, informed, in control - and hopefully in the clear.
Most agree a healthy driver-engineer partnership is an essential ingredient for success in V8 Supercars.
"Your engineer has to almost be a psychologist," says three-time champion Jamie Whincup. "He will know if I am a bit down, he will know if I am a bit loose [and] he will try to slow me down a bit to get me back into the zone.
"You need to know how each other works. When you come into the pits in qualifying, you have maybe 10 seconds to relay some information to make a change on the car that could make a massive difference."
"It is almost like a marriage," says Craig Lowndes, who has 82 race wins in a glittering 16-year career.
"Your engineer has to put up with your good days, bad days, ugly days and your anger and frustration. If an engineer and driver don't click as a 'couple', then you are always going to struggle."
Stuart and van Gisbergen's 'marriage' is in its infancy but the early signs are promising.
They first linked up at Phillip Island (round nine) last year and by the end of the season had brought his average qualifying position down from around 12th to 6.5. Before yesterday's race, so far this year he has qualified fifth, ninth, third and fourth.
Those in the team were reluctant to talk about the split with his previous engineer but it is understood it simply all came down to chemistry. "There was a lack of communication and cohesion," said one insider. "No one was to blame, it is just that sometimes people just don't click."
So far, Stuart and van Gisbergen are getting on famously, in extremely intense and stressful circumstances.
"I think we have a healthy and direct communication," says Stuart, "right from the start we realised we needed to be completely up front and honest with each other."
"It takes a while," agrees van Gisbergen, "we need to learn from each other. We have good chemistry - good results always help as well."
During a race Stuart is constantly monitoring the data coming through from the car and giving his driver updates on its performance, as well as movements in the field, race tactics, impending weather patterns and pit stop strategy.
Van Gisbergen gives his feedback about the car, whether there is understeer, oversteer or a braking issue. "I try to decipher what Shane is saying and then intercept what that might mean in terms of changes to the car," says Stuart, "Shane knows the car really well and his feel [for the car] is outstanding."
In terms of communication, needs vary from driver to driver: "Some drivers like a lot of information, others don't like so much," says Lowndes. "
Van Gisbergen says his needs are generally a lot simpler: "Usually I don't like too much information. I like to get in rhythm, concentrate on driving the car and getting the fastest possible time."
He also doesn't like to say too much: "I try to tell him how the car feels and might suggest little changes, but I don't like to tell Dave what to do with the car.
"I like to concentrate on the driving side of things. Some drivers get very technical but I think they can confuse themselves."
The duo first met in 2007. Stuart was then engineer for Russell Ingall but couldn't help noticing the debut of this young Kiwi kid. "It was a wet day at Oran Park but he showed outstanding car control," says Stuart, as the 17-year-old New Zealander finished in the points on debut.
Stuart has noticed a marked change in his charge, particularly in the last nine months as his personality has started to develop.
Previously reserved, van Gisbergen has started to come out of his shell and adapt to the unrelenting focus.
"He's always had a strong desire and an immense hunger to win ... and sometimes that has been a detriment to him," says Stuart.
He was referring to an incident in Hamilton in 2010, when he was labelled a spoilt brat who needed to grow up after a shouting match with his engineer was picked up on the television microphones.
"He is maturing a lot," agrees Whincup, "I wouldn't say he was loose before, everyone said he was loose [but] he drives hard and is learning all the elements of being a better race driver; he is slowly chipping away at that, though we will try to not make it easy for him."