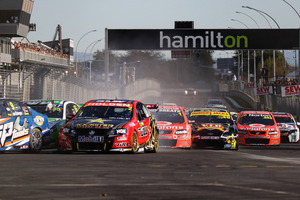 New Zealand V8 Supercars drivers had a day to forget at the ITM400 in Hamilton today as ongoing problems frustrated both Greg Murphy and Shane van Gisbergen.
Van Gisbergen had a disastrous race after qualifying in second, eventually finishing 22nd, while Murphy's wretched start to the season continued when he failed to finish.
Fabian Coulthard was the best-placed of the Kiwis in ninth in the Lockwood Racing Holden to retain his top-10 spot in the championship.
Favourite Will Davison (Trading Post FPR), who was fastest all week until the top-10 shootout, jumped from sixth on the grid to grab his third win of the year and extend his lead in the championship.
Current V8 Supercars champion Jamie Whincup (Team Vodafone Holden) continued his unaccustomed role as the chaser rather than the chased, finishing second to remain runner-up in the series. He forced his way past an improving Garth Tander (Holden Racing Team) late in the race after he had led until lap 38.
The big hope was with last year's ITM400 winner, van Gisbergen after he grabbed the front row on the grid with a splendid run in the top-10 shootout.
The SP Tools Ford driver lurched well off the front row of the grid to push in front of Tander into the first corner. However, this great start was quickly nullified by an unfortunate shunt from the trailing David Reynolds in turn one.
Things went from bad to worse for the young New Zealander as he was banged and bumped around by the majority of the field until he finally settled mid-pack.
"Shane got a good start, although he was a bit hot into the first corner, but he got fair and square punted by Reynolds," said team owner Ross Stone. "That shovelled him back and then you are in the mix. He must have gone over a wheel in turn three. So effectively our race was run before turn three of the first lap. So we just had to salvage what we could."
However, Ford Performance Racing boss Tim Edwards, who guides the fortunes of both Davison and Reynolds, had other views.
"I think Shane [van Gisbergen] had already outbreaked himself going into turn one so there's two sides to every story."
Van Gisbergen said the key for him now was to look ahead for better things tomorrow.
"We qualified well today, our car is fast but it was just one of those days. Hopefully we will put it altogether tomorrow," the 22-year-old said. "I'm just going to forget about today and, if we can qualify well again tomorrow, I think we'll be right.
"I haven't really felt too much extra pressure racing here in New Zealand because my focus is on winning as many races as I can across the whole championship. Today wasn't about pressure, it was about other people getting in the way."
His day was hardly helped with two black flag penalties for infringements at the chicane.
More car troubles forced Murphy to start the race from the pit lane, only to end up five laps down and out of contention. He finished the race in the garage.
"What can I say? It's another DNF and I thought it couldn't get any worse, but I guess tomorrow's another day," said Murphy.
Coulthard was the best of the locals as he improved his grid position by five spots to finish the race in ninth place.
"We had our fair share of battles in today's race but I was more of a hunter than the hunted," Coulthard said. "Another single-figure, solid result is definitely very satisfying after where we were yesterday. I wouldn't say the car's cured but it's better. There was still some rear locking today but it performed better on soft tyres, which helps the cause.
"Having said that, even when we tested the car on a control tyre in qualifying we had improved the locking. We definitely made a good jump from yesterday to today. Now I would like to qualify where we finished today and give ourselves a chance at a podium."
There is a further qualifying tomorrow ahead of the 200km finale to decide the last person to have their name etched on the Mark Porter Trophy in the final race in Hamilton.

- APNZ