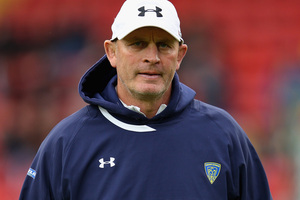 In what will be a further blow to the already damaged Blues, they will find out if and surely when they come to recruit a new coach that they are not the magnet they would like to be.
A coaching vacancy, should it arise, will inevitably result in pub talk focusing on the likes of Vern Cotter and Joe Schmidt as the leading contenders. But seriously ... that's just not going to happen.
The New Zealand view of the world places the game here at the centre of the rugby universe; the possibility of a Super Rugby vacancy arises and immediately speculation is rife that the best coaches all over the world will drop what they are doing and beg for the job.
Hardly. Clermont, where Cotter has been since 2006, are a seriously well-resourced, impressive outfit. Their squad is crammed with international players such as Sitiveni Sivivatu, Julien Bonnaire, Lee Byrne, Wesley Fofona, Nathan Hines, David Skrela, Brent Russell, Jamie Cudmore, Morgan Parra and Jason White.
Their annual budget is in excess of €20 million and they are on course to again make the Top 14 play-offs. They will play Leinster in the Heineken Cup semifinals this week.
Clermont, on any scale, are a considerably bigger outfit than the Blues, which is why Cotter, who recently signed a two-year extension, has made it clear the only job of interest to him back here is the All Blacks.
He was short-listed to take over from Graham Henry but missed out to Steve Hansen, mainly because of his lack of international experience. Cotter's ideal next move would be into either an assistant or head coaching role with one of the recognised international sides. Coming to the Blues would be a big step down.
As for Schmidt, he's building a superb reputation after successfully working as Cotter's assistant before shifting to the head role at Leinster in 2010.
The Dublin-based side have usurped Munster as Ireland's strongest province and have played impressively under Schmidt, winning the Heineken Cup last year and are safely into the play-offs of the Rabodirect Pro 12 (former Celtic League).
Leinster, like Clermont, seem to have endless money and have built an equally impressive squad that includes Brian O'Driscoll, Johnny Sexton, Jamie Heaslip, Rob Kearney, Gordon D'Arcy, Isa Nacewa, Sean O'Brien and, on loan until the end of the season, Brad Thorn.
Again, Schmidt is at a club with more big names and more financial clout than the Blues. He's building something impressive in Ireland and a second Heineken Cup title will place him on the radar for test posts when they arise.
There is also the question of money - Cotter and Schmidt would have to take considerable pay cuts to come home.
Quite who the job will attract is hard to tell and this may prove to be a saving grace for Lam. It is beyond question that the team's performances this season have been bad enough to justify the Blues board dispensing with Lam in August. However, it is uncertain that they will attract anyone obviously better.
Domestic candidates are thin on the ground with the top talent all safely locked in at other franchises.
Attracting proven foreign coaches won't be easy - the money on offer will not be attractive once converted to a stronger currency.
New Zealand is a self-contained rugby market that has little influence from the outside, making it hard for those not immersed in the system to find their feet here.
Australian David Nucifora had a stint with the Blues without really getting a handle on the core skill sets of his players.