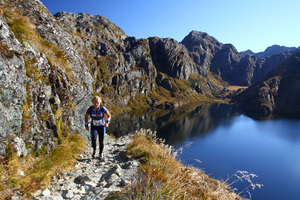 Otago student surprised herself by winning adventure event last year.
Whitney Dagg surprised even herself when she claimed the women's honours in the 2011 Routeburn Classic. Now she wants to break the record.
Dagg, with memories from her unexpected 2011 win top of her mind, is hoping to create history next weekend.
"I have my mind set on breaking the open female record, which is currently three hours and 30 minutes," said the 24-year-old Otago University student.
"Last year I was four minutes off, so I am keen to give it a good crack this time around. I have been working on my speed up steep climbs, therefore I am hoping to get up the hill even faster this year."
The Routeburn Classic is a true adventure run over New Zealand's world famous Routeburn Track.
It is an exclusive event and limited to 350 lucky athletes. The track is 32km long and climbs to 1127m above sea level.
"It was an awesome feeling being the first woman to reach Ocean's Peak. I didn't go into the race expecting to win, as it was my first time on the track and I had been recovering from an injury. I was surprised, yet very pleased to be the first woman over the line."
Dagg got into off-road running five years ago and into competing for the past four.
"The Routeburn track is a fantastic run. The hill climb is tough but the terrain is rugged and exciting, so it makes the climb somewhat less gruelling. When you reach the top there is a fantastic view."
She is feeling some pressure ahead of next weekend's Classic.
"I do feel there is some pressure to do well as I was given the privilege of a free entry [as the defending champion]. However, I don't intend to let it get to me as I enjoy not just the competitive side of running, but also just getting out among the beautiful trails our country has to offer."
Also chasing the women's title is Sia Svendsen, after finishing fourth in 2011. The Danish-born Kiwi is unsure how her legs will feel next week after just completing the Godzone four-day adventure race where her team finished second.
Even though she is tired this is an event that Svendsen was not going to miss. Last year she had a blast.
"I had just been injured and out of running for six weeks due to a fall in the mountains before Coast to Coast so I was unsure how I would go but just took in the stunning scenery and lovely people.
"I ran with a few guys who kept me entertained until the downhill. The scenery is just magic and you forget you are running.
"Also, the many marshals with drink and lollies and a guy in a banana suit towards the finish."
Helen Gillespie, a 42-year-old mother of three children and part-time worker for the Department of Conservation, is making her debut in the Routeburn.
She has a great background in running with one of her highlights being competing in the Coast to Coast of 1998, where she recorded the second fastest run time.
"Neil and I tramped the Routeburn Track for our honeymoon a good few years ago and we are coming back to race it this time," said Gillespie.
Her training for the event has been quality over quantity.
Dagg warned newcomers that the track is one of the more technical in New Zealand's off-road trails so it is a demanding run. "The track is not well formed the whole way," she said.
"There are parts where you have to really watch where you put your feet and the descent takes great concentration if you want to get down the hill fast."
In the men's event, the frontrunners are led by Nick Hirschfeld. He was the second male home last year in 2:52:38 and is back to have a crack at claiming first title.
James Coubrough is considered to be a dark horse in his first time competing in the Routeburn Classic, while noted ultra-runner Vajin Armstrong is also expected to contend.