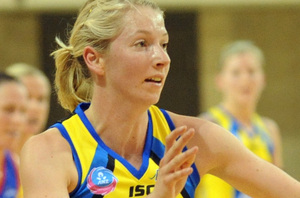 Camilla Lees might be the Central Pulse's best centre but she has put her hand up to fill the all-important wing attack position and could be a long-term option for the Silver Ferns.
Pulse coach Robyn Broughton hasn't been able to settle on a regular selection in the WA bib during their first three games of the ANZ Championship netball competition as Lees, Katarina Cooper and Ngarama Milner-Olsen have spent time there. Daya Wiffen or Jamilah Gupwell are other options.
The Pulse were soundly beaten 58-32 by the Queensland Firebirds in Brisbane last weekend and their inability to get the ball in to their shooters was a major concern to go alongside their poor shooting numbers.
Cooper, a former New Zealand under-21 squad member made her ANZ Championship debut in the game, but struggled as she turned the ball over five times before she was replaced by Milner-Olsen at halftime.
"I really would love to take on that wing attack role," Lees said. "But I've been playing centre almost since I started playing netball so I think I'm a lot more comfortable at centre and the coaches obviously see I'm a bit more comfortable there.
Maybe that's why they don't pick me at wing attack so much."
Wing attack is one of the toughest positions on the court and, given the lack of depth in the position on the national front following the departure of Liana Leota and the retirement of Temepara George, Lees could be a long-term option there for the Silver Ferns.
"It's quite a specialist position," Lees said. "The skills required as a wing attack are quite different to any other skills in other positions because you have to work in such a tight area.
"You have got to be so disciplined with your feeding [of the circle] because you are usually the dominant feeder. You are often the playmaker in that attacking end because you kind of run the centre pass and you run the feeding in to the shooters. So it takes a lot of skill to play there. I think that's why it's quite difficult."
Broughton, though, isn't sold on the idea and was impressed with Lees' performance in Sunday's loss to the Firebirds.
"She did a good job at centre," the veteran coach said before adding the starting wing attack spot was still up for grabs. "We've just been trying that out because Katarina's been off with injury. She had a good pre-season and then to be thrown in that end for an opening game [last weekend] is pretty tough. So she needs more time there to develop because I do think that she's got quite a lot of potential.
"But we've got a good experienced wing attack in Ngarama she's experienced and we could use Millie there as well and Daya's there so we have good bench depth."
Fixing their shooting woes will also be a top priority for Broughton as she watched Caitlin Thwaites (21/28), Paula Griffin (4/12) and Amber Bellringer (7/10) combine for a sub-par 64 per cent effort.
Griffin's struggles will be the most concerning for Broughton after the Silver Fern rejoined the Pulse this season from the Southern Steel and needs to perform with more accuracy.
Both the Pulse and Tactix, who were pipped 55-53 by the Steel last weekend, head into the match in Porirua on Monday night with a one win, two loss record.
- APNZ