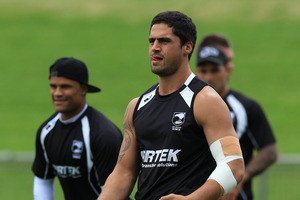 State of Origin has no temptations for young prop despite rapid rise of transplant's star.
Jesse Bromwich might just be the only professional league player for whom a big night out has proved their making rather than their undoing.
In a curious kind of way, the 22-year-old Storm prop - who makes his international debut in tonight's Anzac test - owes his burgeoning career to a bout of over-indulgence three years ago.
"I was living in Sydney mucking around, working on scaffolding, playing local footy," Bromwich recalls. "I came home for a holiday. State of Origin was on that night and we had a fairly big night and I missed the flight to go back.
"I booked another one and I missed that, so I wasn't doing anything at all. My dad rang me and told me to come to Melbourne and work with him."
He did, joining his parents and younger brother Kenny, who had recently been scouted and recruited by the Storm. Both brothers had played for Manurewa Marlins but, for some reason, the scouting process that picked up Kenny missed Jesse.
But when Jesse arrived in Melbourne, his days of wondering what to do with himself came to a rapid end. Kenny took him along to a Storm under-20s training session and the club immediately liked what they saw.
A week later, Jesse played his first Toyota Cup match. He hasn't looked back, progressing swiftly through the Storm system to make his NRL debut in the opening game of the 2010 season. He played seven games in that season blighted by a salary-cap scandal, before graduating to first grade regular last season.
This year he's been a cornerstone in a Storm pack that is yet to taste defeat. His Kiwis call-up caps a rapid ascension that has seen him leapfrog the likes of Greg Eastwood, Fuifui Moimoi and James Tamou. While Tamou has seemingly reacted to the disappointment of missing the cut when part of last year's train-on squad by switching allegiance to New South Wales and Australia, Bromwich never considered any path other than the one that led him to his first Kiwis jumper.
"My old man would kill me. I'm from a pretty proud Kiwi family. I've still got my [extended family] here. And I grew up here. [State of Origin] never tempted me, not even a little bit. Playing tonight will be something special, something I'll remember the rest of my life."
Given his ad hoc recruitment and teenage timekeeping issues, Bromwich seems an unlikely success. He attributes his position to an unrelenting system at the Storm under Craig Bell-amy that separates strong from weak.
"He's a great coach. And obviously having Cameron [Smith], Billy Slater and Coops [Cooper Cronk] there helps. Everyone just trains so hard.
"There've been heaps of [young players] that have had heaps of potential but the training has been too hard. They come and go but the really good ones always stay. It's pretty hard going but something must be working."
He may have spent three years learning at the feet of the three Storm masters but Bromwich says there's no secret formula for defusing the threat of Slater, Smith and Cronk when he comes face-to-face with them tonight.
"I'd be lucky to catch any of them. There's no secret really, they just go hard. Everyone knows what they're going to do - trying to stop it is the hard thing."