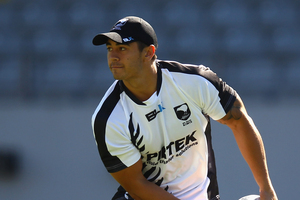 Kiwis assistant coach expects his young talent to step up on debut and thrill their home crowd.
Tony Iro likes to joke that the last time the Kiwis won an Anzac test was so long ago he can't even remember it.
He's joking all right. "You don't forget beating Australia," admits the man who played second row in that rare victory and who is now the assistant coach. "I remember 17 players having a real good dig that day. We had beaten the Australian team the previous year under Super League colours but there was a bit of criticism that we had only beaten half of the Australian team in'97, so we had some incentive to do well in'98."
That incentive certainly hasn't diminished 14 years later. The intervening period has seen 10 more Anzac tests played. Each has been won convincingly by Australia, with the games all being played on Australian soil.
That one-sided scheduling for what has been near enough an annual fixture has been down to pure pragmatism. Australian stadiums packed with spectators who have paid for their tickets in Australian dollars generate vastly more revenue than the comparatively spartan attendances at the rare (end-of-season) games staged in this country. Desperate for their share of the takings, the cash-strapped NZRL has seldom been in a position to object.
Now, thanks to a rise in the game's standing on the back of two major Kiwis triumphs and the positive transformation of the Warriors, the Anzac test returns to New Zealand. Hopes are high for a bumper attendance at Eden Park and a change in what has been an entirely inevitable result.
There is, however, a caveat. The match may be returning to these shores but rather than being held on the Shore - the scene of the 1998 triumph and another in 2003 - or even Mt Smart, where the Kiwis downed the Kangaroos in 1999, the game will take place at a venue that has catered for nothing but misery for Kiwi league.
To further muddle a line that was never actually uttered in Star Trek, it's home Jim but not as we know it.
"To be fair we haven't had much luck at Eden Park - rugby league full stop," Iro admitted. "So that is another monkey we have got to get off our back. But [home advantage] is massive for us.
"You can never underestimate the Australians, it is going to be [tough]. But playing on home soil, the ... support we get, that has got to be a positive."
Iro also believes a Kiwis side that contains nine changes from the most recent defeat by England in last year's Four Nations is as close to full strength as any fielded in recent times.
"With the exception of Kieran Foran and Steve Matai this is the best side we could have picked. We have got a couple of guys making their debuts [Shaun Johnson and Josh Hoffman] but they are the best young talent in the game and we are confident they can handle that rise. There are plenty of test caps in the side, so we have no excuses."
Enforcer Jared Waerea-Hargreaves certainly isn't too bothered by history or geography.
"A game is a game, y'know," he said. "We are here to do a job and we'll be doing our best to get it done."