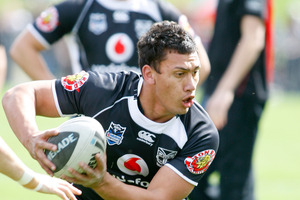 The New Zealand Rugby League is committed to hosting the Anzac Day test every other year - even if playing the game in Australia is a more lucrative prospect.
A day out from this year's test at Eden Park, the first in New Zealand since 1998, ticket sales have reached more than 25,000 but NZRL boss Jim Doyle was unhappy with the figure.
"A lot of people are saying for a rugby league game it's actually quite good but, from my point of view, we've got the top two teams in the world and the Kiwis are back to full strength and we've not had an Anzac test in New Zealand for 14 years," he said.
"It's certainly lower than I expected. We budgeted conservatively but it's certainly lower than we were expecting and hoping for."
Regardless of the final attendance, New Zealand is set to continue alternating with Australia hosting duties for the one-off test.
"We're certainly hopeful that we have this test match here every second year," he said. "We could have the game every year in Australia and make more money. But if we did that - and obviously it's happened for the last 13 years - you can't grow the game because you have not got high profile games held in the country."
Breaking even wasn't an issue, according to Doyle, but he hoped tickets would eventually reach 35,000 so the union could turn a profit.
"It's not just about breaking even, it's about making money so we can invest it back into the grassroots and grow the game in the country."
Another way to grow the game in New Zealand, and also a way to increase revenue from the Anzac test, was to take the match to other venues around the country.
"If you have an opportunity to make money somewhere else because the cost of the stadium is less to hire than Eden Park, then you're happy to have less of a crowd because you're making a profit," Doyle said.
"It doesn't always have to be at Eden Park, it doesn't always have to be in Auckland. If we had the opportunity to go to Dunedin, Wellington or Christchurch, and we could make that realistic, it also helps us grow the game."
The NZRL today released 2600 discounted tickets on the voucher website GrabOne, something which had been long planned, and they sold in just 28 minutes. Doyle hoped that promotion and a significant walk-up crowd would boost gate receipts.
"Tickets are picking up, they're not going too bad. Obviously, we've still got two days to go, and the weather is forecast to be really positive so hopefully there will be a walk-up crowd.
"We're hoping to exceed that 30,000 mark and get closer to 35,000."
Earlier in the week, Australian coach Tim Sheens bristled when asked about Australian television not covering the game live, and said he'd like to see a full house at Eden Park.
"It's not for me to worry about what the TV stations are doing and how they schedule their games. I think there's plenty of interest and I would like to see the stadium here full, too. You haven't sold that yet."
A crowd of 40,000 watched the Warriors open their NRL campaign at Eden Park in March and 44,000 turned up the last time the Kiwis played at the venue in 2010.
That crowd caused controversy by booing the Australian national anthem and throwing bottles in the direction of Kangaroos hooker Cameron Smith when he was lining up a conversion.
- APNZ