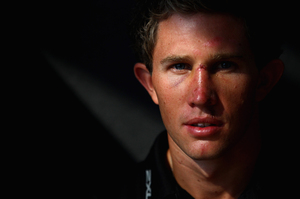 Ryan Sissons and Nicky Samuels would have been entitled to slap each other a high five yesterday.
They were named the third selections for New Zealand's Olympic triathlon teams to contest the London Games in August.
To be confirmed starters, New Zealand must be inside the top eight nations - and thus earn the right to field three runners - at the end of next month's qualifying period. Right now, the men are solidly fifth, the women seventh, but should hold their positions.
Sissons didn't look his best at the announcement yesterday. His face had the look of a badly beaten favourite, courtesy of a collision with the road during the cycling leg of last weekend's Sydney world championship series event.
"A guy crashed in front of me, I had nowhere to go, and managed to take all the impact on my face," Sissons said.
Still, he's been racing well, and is confident New Zealand will get that third spot secured.
"I haven't fully made it yet but we have to make sure we stay in the top eight. I know I'm in good shape, it's just a matter of getting out and actually doing it," he added.
As for Whangarei-born, Wanaka-based Samuels, she had every right to let rip a whoop of delight. Her 12th placing in Sydney was enough to win her a spot ahead of Beijing Olympian Debbie Tanner, and join world No 1 Andrea Hewitt and No 5 Kate McIlroy.
Samuels has undergone two bouts of heart surgery. The first, last July, didn't work.
The second, in January, did. At times she must have harboured doubts whether London was in her stars. Now she is "100 per cent" and her confidence is soaring.
"It's been two and a half months since the last surgery so I've only had that amount of pure training, and to get the result in Sydney shows everything is working and what I can do with another few months before London is quite exciting," Samuels said.
New Zealand's challenge at the fourth Olympic triathlon event will be led by Hewitt, a rock-solid gold medal contender.
The country has a strong Olympic record in the sport, with Hamish Carter and Bevan Docherty's fabulous 1-2 finish in Athens in 2004, followed by Docherty's bronze in Beijing in 2008.
Palmerston North's Kris Gemmell, who secured his automatic spot by finishing seventh in Sydney, is the best-ranked of the three New Zealand men.
Race walker Quentin Rew has been added to the athletics team for London.
The 27-year-old produced an A qualifying time in finishing ninth in the 50km event in Slovakia on March 25, posting a 3h 58m 48s, 12s inside the standard.
It was eight minutes better than his previous best time. Rew joins four other athletes in the initial selection - shot putter Val Adams, 1500m runner Nick Willis, marathoner Kim Smith and javelin thrower Stuart Farquhar.
Shane Smeltz and Winston Reid are being lined up to join skipper Ryan Nelsen as the three over-age players in the New Zealand soccer squad at the London Olympics.
The New Zealand men's and women's teams were yesterday confirmed for the London Games without the controversy of four years ago when their inclusion became the subject of considerable debate.
A lot has happened in that time, not least the All Whites' impressive showing at the 2010 World Cup when they returned home with three draws.
The 18-strong squads will be named in the middle of June but Nelsen and Rebecca Smith were named as the respective captains and New Zealand men's coach Neil Emblen wants to add striker Smeltz and defender Reid to his side - the men's competition is an under-23 tournament but each country is allowed three overage players.
SELECTED
New Zealand triathlon team for London Olympics
Men: Kris Gemmell (Palmerston North, world No 17), Bevan Docherty (Taupo, No 22), Ryan Sissons (Auckland, No 24). Reserve: Clark Ellice (New Plymouth, No 45)
Women: Andrea Hewitt (Christchurch, No 1), Kate McIlroy (Wellington, No 5), Nicky Samuels (Wanaka, No 21). Reserve: Debbie Tanner (Auckland, No 35).
Note: Sissons and Samuels selected subject to International Triathlon Union confirmation due late next month.