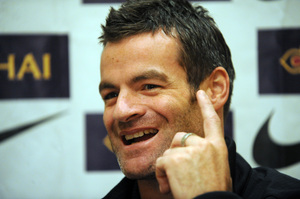 Shane Smeltz and Winston Reid are being lined up to join skipper Ryan Nelsen as the three over-age players in the New Zealand football squad to compete at the London Olympics.
The New Zealand men's and women's teams were today confirmed for the London Games without the controversy of four years ago when their inclusion became the subject of considerable debate.
A lot has happened in that time, not least the All Whites' impressive showing at the 2010 World Cup when they returned home with three draws.
The 18-strong squads will be named in the middle of June but Nelsen and Rebecca Smith were named as the respective captains and New Zealand men's coach Neil Emblen wants to add striker Smeltz and defender Reid to his side - the men's competition is an under-23 tournament but each country is allowed three overage players.
Nelsen played at the last Olympics in Beijing and was a natural choice to lead a side that will have a strong All Whites flavour. Chris Wood, Marco Rojas, Kosta Barbarouses, Tommy Smith, Jake Gleeson and Greg Draper have all played for the senior side and Nelsen, Smeltz and Reid would add considerable depth and experience.
Most of those players will play for the All Whites in their first stage of World Cup qualifying in the Solomon Island in June, which finishes three days before the Olympic teams need to be confirmed. This give Emblen the luxury of assessing form and fitness but he's fairly certain on which overage players he wants to add.
"Shane Smeltz is in great form," said Emblen, who will be joined by All Whites boss Ricki Herbert at the Olympics. "I have always admired him. Although we have three to four other strikers in the All Whites frame as well, he's definitely a player I am looking at. Winston is back and playing at a high level. Those are the other two players I would really like to get."
The Olympic draw will be made in London next Tuesday night and will have a considerable bearing on how the two New Zealand teams could go.
The women's side have been strong performers on the international scene over the past couple of years and have set the lofty target of winning a medal.
They came within five minutes of upsetting the US in February, when they led the world No 1 side until the 89th minute before conceding two late goals, and it has fuelled their belief they can do more than compete.
Like the men, they are also stacked with overseas professionals and have also beaten the likes of Italy and drawn with England and the Netherlands in the past couple of years.
"That's how we are preparing, to be in and among those medals," women's coach Tony Readings said. "I would rather prepare that way and be wrong than not prepare that way. For us, we were so close to beating America who are No 1 in the world. If we can win those sorts of games, we could be playing for a medal."
The women's squad are hoping to confirm two games against China and Australia in June before taking part in a six-team tournament in Switzerland. The men's side have the luxury of the All Whites campaign but they are also hopeful of playing in a four-team tournament in Spain against other Olympic-bound sides.
- APNZ