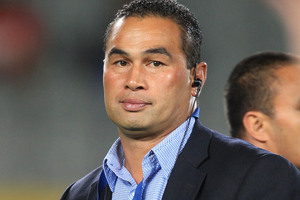 The last time Pat Lam and his Blues rocked up to debrief a victory with the Monday media was in mid-February.
They discussed a clean sweep of pre-season trial games but the only subsequent victory in the results chart came offshore against the Bulls.
Since then, discussions have been against a crumbling backdrop, the threads of optimism have thinned as the descent continues for the Blues. Lam remains a staunch and emotional leader when he discusses the regular woes and is also talking about his desire to stay as Blues coach next year.
"Course I do," Lam said yesterday about his wish to head the staff in 2013. That decision will be made after a franchise review at the end of the Blues' campaign but Lam said he had no plans to head overseas. That was not part of his thinking.
The Blues were still united despite their ragged results and Lam was determined they would keep working hard until the end of the Super 15.
Lam was in regular contact with his mentor Graham Henry and the former All Black coach had offered strong support last week when the Blues coach suffered an array of racial abuse and criticism.
Henry had always been a wise counsel with sensible advice and feedback. That relationship continued and Lam was inspired by the encouragement to focus on the areas he could control.
"What I am going through is nothing to what he went through with the Lions in 2001 and the All Blacks in 2007," Lam said. "Any coach worth their pinch of salt has to go through these times and it's what you do with those times - and he certainly came out of it."
Henry had a wide and busy range of work but the pair talked often.
"There is rugby tactics, coaching and dealing with what we are going through and that is where Henry is a great sounding board for external pressure and confidence," Lam said.
"We just have to keep building, keep fighting, we won't give in. That's what you do when you are in these situations. Win or lose we front up and try to get better and it is frustrating."
He felt the Blues were not far shy of clicking but they had to work harder to find the clues. They were playing and coaching for their franchise and reputations.
Last week was the toughest of Lam's professional playing and coaching career but also the most rewarding. The rugby community here and round the world had underlined that with their encouraging messages and he had replied to several hundred wellwishers.
Captain Keven Mealamu would miss Friday's game with the Highlanders in Dunedin and probably the next match because of a calf injury. Others like Benson Stanley and the Braid brothers also needed medical assessment after picking up knocks.
The Alby Mathewson-Gareth Anscombe pairing did their best to run last week's match and the growth of the young five-eighths in these tough times would be an invaluable lesson in his development.
The Blues emphasis remained on structure, the game plan and reducing the list of errors to compete with the vigorous Highlanders forwards.
McCAW BACK FOR REDS MATCH
Injured Crusaders captain Richie McCaw has been reluctant to put a date on his return, but the team's next home match against the Reds looms as the most likely.
McCaw has recently returned to contact training with the Crusaders. He has not played since leading the All Blacks to victory in the World Cup final in October, due to his injured right foot.
Coach Todd Blackadder said the Sunday, May 6, match against the defending champion Reds at Christchurch Stadium was a likely date for McCaw. "He went for a run yesterday under the guidance of our physio John Roche and Rochey reckons he's never seen a man more possessed than Richie," Blackadder said.

- APNZ