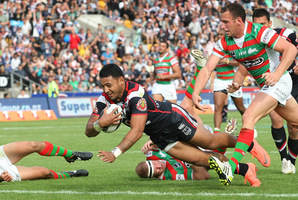 Warriors 44
Rabbitohs 22
Warriors coach Brian McClennan has been doing his share of preaching - yesterday against the Rabbitohs his players appeared to have finally been converted.
Application of the fundamentals - running hard, tackling hard and holding on to the ball - translated into the Warriors' most impressive display of the season.
It wasn't perfect, with a shaky period either side of half-time making the job of rolling over the under-powered Rabbitohs much harder than it needed to be. It was, however, a significant bounceback from consecutive shockers against the Roosters and Raiders.
Krisnan Inu's return to the fold added an intermittent spark, senior prop Sam Rapira recaptured his blockbusting best form and Ben Henry continued his impressive progression into a bona fide NRL centre.
Henry displayed some nice touches on attack to create and score a try but it was his late try-saving tackle on a rampant Greg Inglis that finally shut the door on the Rabbitohs.
"It was special play from [Henry] and he made some pretty good choices with the footy as well," McClennan said. "Defensively, he has been as safe as a house for us so I was really happy for him."
The merit of Inu's contribution was less clearcut. He gave the Rabbitohs defenders and his team-mates fits in equal measures with his flamboyant approach. He filled in well enough at fullback when Jerome Ropati departed with a strained hamstring and scored a late try, however he also pushed some questionable passes and appeared lethargic off the ball.
"I thought I tried a bit too hard at the start, to be honest," Inu said. "A few passes I shouldn't have let go. But I thought I did well to help the boys out in the second half and do a lot better.
"It was good to get the ball back in the hands."
Whatever side of the Inu debate you sit, the scoreboard shows the Warriors have won both games he has played this season.
"It all came down to the talk and the way we handled ourselves from errors," he said.
"We defended well and did the job we needed to do."
Defend well the Warriors certainly did, with the try-line breached only by two clever Adam Reynolds grubbers and two pieces of Big Dave Taylor brilliance.
At the other end of the field, the Warriors ran in four tries in each half, with captain Simon Mannering notching a double.
"It was nice to see some happy faces in the changing room and they deserved to be [happy]," McClennan said.
"They are a good bunch, so it was good to see them all happy again."
While the Rabbitohs scored first through Taylor, the early signs were largely positive for the Warriors.
"We were winning some collisions," McClennan said.
"Even at 6-0 down, I could see from the way we were playing we were going to be tough to beat.
"The boys in the middle were really good. They really rumbled forward for us and kept bending the line. That was a big pointer in how we went."
With a trip to Melbourne on Anzac Day to face the unbeaten Storm, followed by a home match against the second-placed Broncos, vastly tougher challenges lay ahead. The blueprint for success, however, has been laid down.
"I am pretty confident that if our team finishes with 50 per cent of the ball or more we will be a pretty hard side to beat," McClennan said.