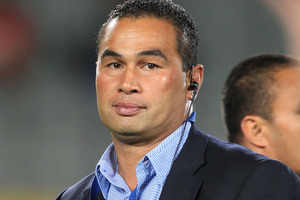 Time to give up on what remained of a brave face. Let's just wail and weep about the Blues. They are downright awful.
The time to make a coaching change was last week, a last-gasp Hail Mary chance to avert the otherwise inevitable disaster which duly arrived at Eden Park when Pat Lam's bumblers lost to an average Sharks lineup. The Sharks mixed languid with little bursts of outstanding rugby before a wee gathering. Even a half-decent Blues side from their disappointing past would have smashed that lot.
Lam had to be removed if the Blues were desperate and still dreaming the dream. The Blues' passes hit each other on the noggin while we just scratched ours. This team are dysfunctional, thus badly coached.
Lam's emotional press conference last week also said plenty about his state of mind. Under immense pressure, he allowed an ugly molehill to turn into a horrendous mountain.
I have not read the allegedly racist remarks made against Lam, so do not know if they were racist. There are many words on the subject, including on overseas sites, and none specifically detail what has been said. This is curious. (In contrast, yesterday's story about racist comments against Warriors halfback Shaun Johnson detailed the appalling remark.)
A lesson some of us have already taken in modern life is that the so-called social media can be very anti-social, being both anonymous, reactive and free to roam. Best then not to be overly drawn into or concerned about this particular web. In saying that, the pain public figures experience when they feel family and friends are belittled on their behalf is understandable. But Lam needed to be stoic - the players didn't need the distraction, nor the sight of a flailing leadership.
Sadly, I have heard many racist remarks made against rugby and league players over the years and most suggest that Polynesian players lack heart under fire, that they are flat-track bullies. To that it can be rebutted: Michael Jones, Ruben Wiki, Keven Mealamu, Jerome Kaino and on and on. Some people see players of other cultures in blanket terms, rather than as individuals.
What we don't want to develop is a racial dialogue resembling the American political system, where people stand as far away from each other as possible and scream as loud as they can. Let's be proud of our multiracial city and intrigued by the complexities while excited about diversity and the future.
Auckland is sparse by world standards but has developed the look of a major cosmopolitan city plus the uneasy feel. Racial conflict has accompanied and driven the development of many famous cities so we can hardly expect to be immune. Racial or cultural heritage has a place in sports arguments but these are best conducted with respect in what are almost always complex situations.
For instance: I have long believed that the British have had an overly influential part to play in our soccer, because their rigid playing style and fiefdoms have squashed what could have been a much more inclusive, south seas style of the game. Then again, soccer would have been dead in the water here without the British, and the highly influential English leagues are magnificent. Is this view culturally insensitive? I hope not.
Back to Lam, who is not up to the job. He has dicked around with the halves and there isn't one area where you could say he has excelled. What remains is a complete mess and both instinct and evidence says Lam is not the man (and that France-based Vern Cotter is).
Final thoughts: As a benchmark, Rudi Wulf - a fine footballer with moderate gifts - should be the bottom marker in what is regarded as good enough for the Blues outside backs. Instead, he is the current star. There must be other Keven Mealamus out there. Why is Charlie Faumuina the only new forward on the rise? Why is Konrad Hurrell playing for the Warriors?
The city's rugby is multicultural but one problem with Auckland rugby is heavily Polynesian-related. The franchise and union are slap bang in the middle of an unbelievable pool of power-based talent and neither organisation comes close to making the most of it.