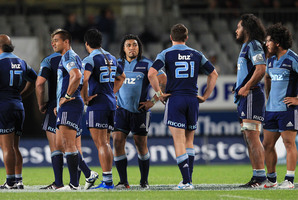 Confidence is a precious yet fragile sporting commodity.
Winning breeds self-assurance and the ability to reproduce strong performances while losing drains the soul.
When a losing sequence continues, belief withers and even regulation sporting tasks seem a struggle.
The Blues are battling all those issues as they watch teams in their New Zealand conference rocket up the points table. They don't need reminding they are in a shocking losing sequence - the worst start in franchise history - but everywhere they look or listen, there are reminders.
That's the way it is. This season, from top to bottom, the Blues are sagging. Inspection is hardening on the Blues strategies, from chief executive Andy Dalton and the chairman-free board to coach Pat Lam, his staff and the players.
It is a consequence of the Blues record, which sagged even further with their latest 29-23 defeat to the Sharks at Eden Park. Four losses in a row, six defeats in seven outings, and the Highlanders to follow on Friday in Dunedin.
Lam chose to simplify the side's game plan and structure for their latest match but there was little let-up in the mistake rate.
The Sharks claimed two tries from intercepts and one from a refereeing error, but the visitors could question two Blues tries from scrums which looked in need of a refereeing reset.
But the Blues were in a fragile state coming off their previous unacceptable defeat to the Rebels. They had their chances, created opportunities but lacked skill and conviction. They made poor decisions. "The confidence just goes whoomf," Lam agreed as he spoke of his side's try concessions.
He watched his team's efforts off the ball and noticed the "workrate improvement was massive".
You have to ask what the players were producing and the coaches demanding in their previous games.
"We have got to build our attitude, workrate and effort against the Highlanders, who are flying high," Lam said of this week's contest.
The embattled coach said he had found comfort in the hundreds of encouraging emails and notes after revelations his extended family had been racially abused.
That made him proud, he said, but "we have got to deal with the rugby".
Captain Keven Mealamu is an unlikely starter this week after more calf muscle problems, while Benson Stanley seemed to damage a thumb.
However, there is little selection leeway given the form of others who have been tried already. All Blacks Piri Weepu and Ali Williams were called from the bench for about 25 minutes' impact but made little traction.
Others, such as Rene Ranger, were hot and cold in the same minute; Luke Braid seemed short of a run after his suspension. Rudi Wulf and Tony Woodcock were better performers in an erratic display.
The Blues play the Highlanders, Reds, Hurricanes, Lions, Crusaders, Highlanders and Chiefs before they are guaranteed points with their second bye. With only three of those games - Reds, Lions and the return Highlanders clash - at Eden Park, the franchise bean-counters, like the coaching staff, will be reassessing their season projections.