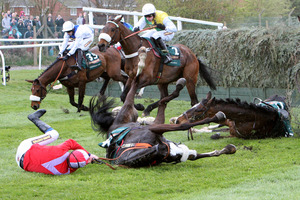 According to Pete ridden by Harry Haynes, left, died after falling at Becher's Brook at Aintree Racecourse. Photo / AP
Synchronised, the joint favourite, was one of two mounts to die in the Grand National yesterday, prompting a fresh round of demands from animal rights protesters for the steeplechase to be abolished.
Ridden by veteran jockey Tony McCoy, the nine-year-old winner of last month's Cheltenham Gold Cup earlier escaped his rider, running most of the way around the course in a state of agitation before being brought under control for the start of the race proper.
The thoroughbred steeplechaser fell at Becher's Brook.He carried on riderless until he stopped after the Canal Turn where he was found to have an untreatable fracture on a hind leg and was put down.
The other mount who died - According to Pete - fractured a foreleg also after falling at Becher's. Two other horses, Killyglen and Weird Al, were receiving veterinary treatment yesterday after falls.
The race was won by Neptune Collonges, ridden by Daryl Jacob in an almost impossibly close finish millimetres ahead of Sunnyhill Boy. Katie Walsh on Seabass came third in the contest, becoming the highest placed female jockey in the history of the race.
The deaths bring the number of horses killed at the Grand National in the past 50 years to 36. Including yesterday's deaths, the toll of horses killed on racecourses this year has already reached 41, 23 of these in March alone.
Commentators said yesterday that the toll would have been higher if a meeting hadn't been cancelled because of bad weather.
A cluster of about 30 animal rights protesters gathered outside the course yesterday, waving banners saying "Don't bet on cruelty".
Andrew Tyler, director of Animal Aid, said: "The Grand National is a disgusting and shameful spectacle masquerading as sport. There is nothing sporting about an event that routinely kills so many horses. For anyone who genuinely cares about horses, watching this race was an utterly depressing and melancholy experience."
Julian Thick, managing director of Aintree, said: "We are desperately sad at these two accidents and our sympathies are with the connections of both horses.
"When a horse gets hurt, everyone is deeply upset. Safety is the first priority for the organisers of the Grand National and we make every effort to ensure everyone involved is able to participate in safety."
The angry protests at Aintree marked the formal start of what is expected to be a northern summer of political agitation targeting national and international sporting events in the UK. Anti-elitist campaigner Trenton Oldfield launched his own, slightly risible, protest against the Oxford and Cambridge boat race last week.
But more serious and substantial demonstrations are expected this year, with protests against the Olympics being planned yesterday when a coalition of groups opposed to the Games met in London for the first time.
Protest groups under the umbrella name Greenwash Gold 2012 set out a series of actions before and during the Games.
The majority of the protests are aimed against controversial sponsors Rio Tinto, Dow Chemical and BP, who are accused of environmental and human rights abuses.
-Independent