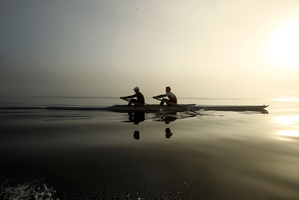 As summer comes to an end so, too, does the summer kayaking race series tomorrow at Lake Karapiro.
But don't fret. For the super-keen paddlers in the Waikato there is still plenty of opportunity to get in the kayak with the winter race series beginning at the Karapiro Kayaking Race Club from May 13.
The summer series has proved popular again.
Participants can compete in three distances - 6km, 12km and 18km.
"We have around 30 entered in at least one race and around 20 turning up for any individual race," said the event organiser, 46-year-old Brad Hayes.
"There are literally hundreds of kayakers and multi-sporters in the Waikato area and we look forward to seeing them all."
The series was initially run by the Boatshed Cafe and Kayaks. For as long as Hayes can remember there has been a monthly race series at Karapiro.
"There are no other regular kayak racing events in the area. At Karapiro we have easy access to a beautiful lake with a number of course options. You can paddle here in all weather conditions."
It is a great way for the community to come together over local sport. "The youngest competitors tomorrow are aged 10 and the oldest is well into his 60s.
We aim to meet the needs of both beginners and experienced racers whether they race primarily for fun or whether they are seriously competitive."
All levels are encouraged to join in the competition.
"We time each lap so those who want to can review their race plans and monitor their progress throughout the season, both against the clock and against other competitors.
"With the handicap race we aim to have a perfect photo finish with everyone converging on the finish line at once after 6km."
Hayes says the series is for everyone but added that people who have never kayaked before need to ease into the competition.
"People need to be experienced enough to be safe and self-sufficient on the water but you don't need to have taken part in a kayak race before.
"You need to have your own kayak and you can race in any type of kayak. The club has a range of racing craft available to members if you want to progress to a faster boat.
"My advice to people is don't wait, come and join in the fun. We have a great time."