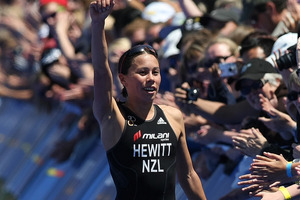 The New Zealand women have left all the work in the hands of the Tri NZ selectors after missing the final chance at an automatic nomination for London at the Sydney world champs series triathlon today.
World No 2 Andrea Hewitt raced superbly for third behind Australia's Erin Densham and Helen Jenkins from Great Britain but, with Hewitt having already booked her place in London, the pressure was on the other Kiwis to make the top eight and join her on the Olympic team.
The selectors will now use their discretion in naming their team. Two spots are guaranteed for New Zealand but a third place for London is probable with New Zealand among the top-eight nations on the ITU Olympic rankings - they need to maintain that standing at the end of May.
Nicky Samuels came closest to the top eight and an automatic nomination, running a very good second half of the 10km run to come home 12th, one minute 22 seconds behind race winner Densham and just 14 seconds outside eighth.
Debbie Tanner faded slightly on the second half of the run, coming home in 20th and Kate McIlroy simply couldn't get things going on the run, finishing a disappointing 27th.
McIlroy has been in good form so far this season and is expected to get the nod, meaning the final spot could come down to a straight choice between Samuels and Tanner.
"I wanted top eight but, first Kiwi that hasn't qualified, that should help,'' Samuels said.
"I was really close to the top eight but not quite there but I am confident I can come out and do it again.
"It was all down to this race. I haven't planned too much beyond this other than I will keep on training and working on my running with plenty of time to do that so I am happy with where I am.
"I'm happy with my run. To finish strongly is something I always used to be able to do but haven't done for a few years so I am happy to finally have that back. It now comes down to selector's discretion so we will wait and see.''
Tanner has her fingers crossed for a return to the Olympic Games after finishing 10th in Beijing in 2008.
"I've been pretty consistent in the last few races, getting better and better and I feel like I am on the way up,'' she said. "I was feeling confident with all three disciplines. They have been going well in training, to have a good swim and be in the front pack and to bike as well as anyone else out there today and to come off the bike and run against 50 girls in what turned into a running race I just lost a few vital seconds in the closing kilometres.
"I was second Kiwi home in London after being ill and today I am third Kiwi home so hopefully that shows the selectors that I can be consistent and get up there and be amongst it. I am only moving forward so hopefully I can get on the team and represent New Zealand at the Games.''
The Kiwis were well positioned out of the water, with Rebecca Kingsford the only one to miss the lead group as they headed out on to the 40km bike ride. But that situation didn't last beyond the halfway point on the bike with Nicola Spirig (SUI) driving the chase group of 24 up to the leaders to form a large peloton of more than 50 riders with the favourites jockeying for position nearing the transition to the run.
Once on the run Densham, Jenkins and Hewitt quickly established themselves as the strongest on the day, shaking the attention of any pretenders.
- APNZ