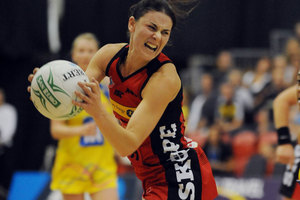 After some topsy-turvy results over the opening two rounds of the transtasman league, the competitive realities of the teams are likely to become more apparent this weekend.
With the Saturday games traditionally returning the lowest ratings, league organisers - as directed by their broadcast partners - have made a deliberate decision to limit the number of Saturday games this season.
This weekend is the first of eight rounds where the matches are only scheduled tomorrow and Monday.
As a result, tomorrow will see three games played virtually back-to-back. The late game features an intriguing all-Kiwi match-up between the Canterbury Tactix and Southern Steel.
The two sides were expected to be battling it out for the wooden spoon at the end of the season, but with both teams proving competitive against some of the heavyweights of the league over the opening two rounds, they may not be destined to prop up the bottom of the table after all.
Tomorrow's game in Christchurch presents an opportunity for one of them to build strong momentum.
Tactix coach Leigh Gibbs, whose bold substitution decisions last week helped inspire the Canterbury side to their first win over an Australian team in three seasons, will be eager for her side to respond with another big performance against the Steel, knowing confidence is key for her young side.
The Steel's confidence will be wavering following their mixed start to the season. After opening their season with a shock win over the Magic, they turned in a comparatively lifeless performance in their second outing, and were upstaged by Robyn Broughton's Central Pulse.
The Pulse have a tough task tomorrow though if they are to string together back-to-back wins for the first time. They travel to Brisbane to take on the defending champion Queensland Firebirds.
While the Firebirds have failed to take flight early on in the season and are sitting at the foot of the ladder at 0-2, Broughton said the star-studded side will be a handful as ever.
She believes stifling the Firebirds' flow on attack will be key to unravelling the home side.
"We are going to have to ensure that we have the shooters covered and slow them down. Shooter Romelda Aiken at 1.96m always presents a huge challenge to defenders and we've been working hard this week to find ways to deal with that."
In today's other game, the Adelaide Thunderbirds will go head-to-head with their only other unbeaten Australian rival this season, the Melbourne Vixens. Monday night will see two big transtasman clashes, with the Northern Mystics playing host to Norma Plummer's West Coast Fever side, while the Magic have a tough away assignment against the NSW Swifts in Sydney.